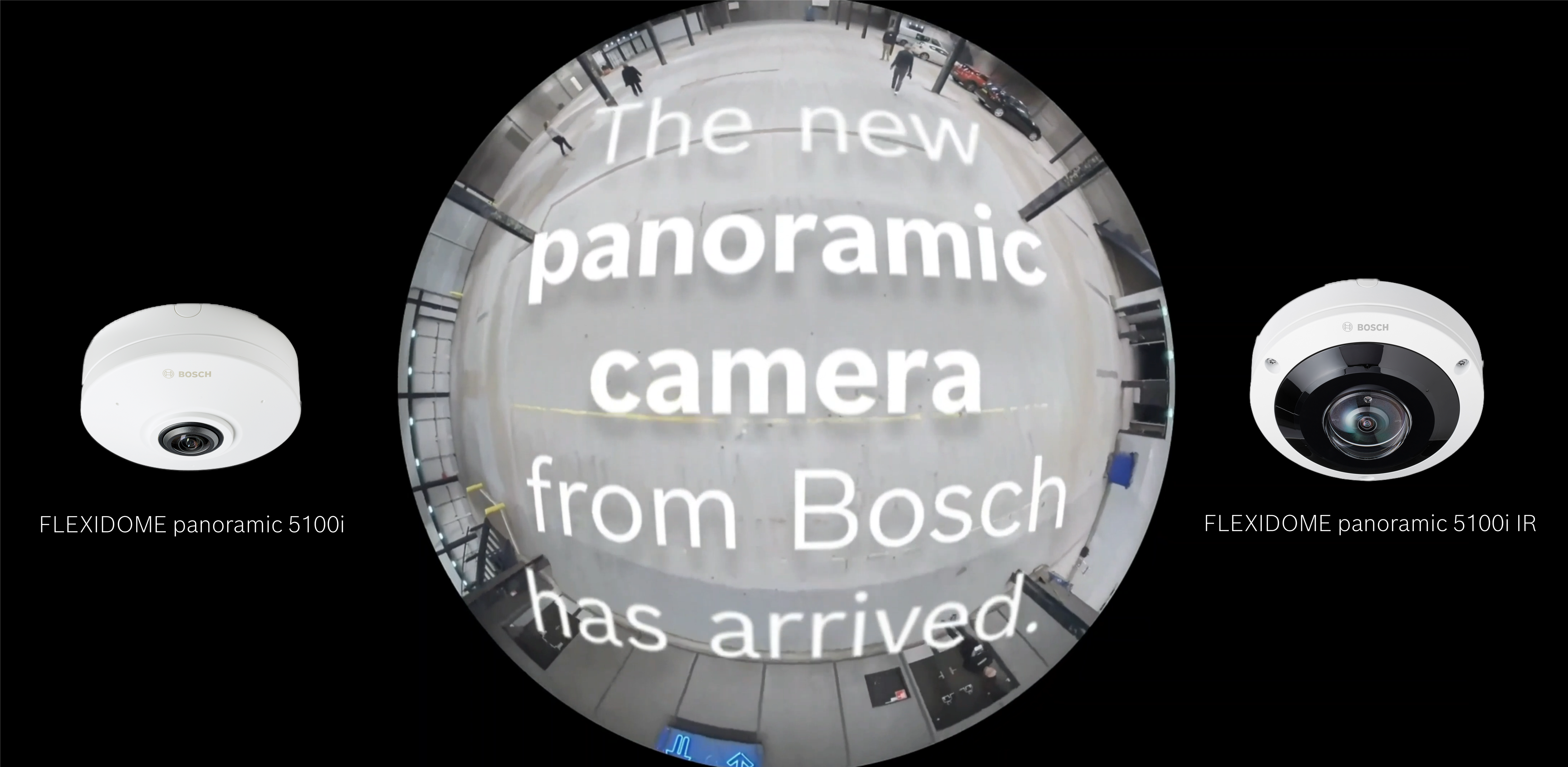 If you're anything like us, you want to see crystal clear overview images of large areas, challenging stairways, and intersecting hallways with a single security camera. So, when a new and improved panoramic camera solution was brought to the market, we took the opportunity to put it to the test in a variety of common use-case applications.
In the videos below, we take you from unboxing to installed solution:
Features and benefits for installers and system users
DORI image resolution
Stairway use case
High Dynamic Range (HDR) example
Cafeteria use case
Parking lot use case
Multi-zone IR array with independent intensity adjustment
Large vehicle garage use case
Unboxing
Lens rotation adjustment
Mounting hardware options
Features and Benefits
The Bosch FLEXIDOME panoramic 5100i (IR) is available in both 6MP and 12MP variants with and without field-adjustable infrared (IR) illumination array. In this video, Steve, Tom, and Joe discuss the extensive end user and installer benefits of the new 360⁰ imaging solution >>
DORI Image Resolution Capabilities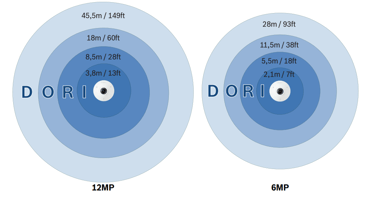 DORI (Detection, Observation, Recognition, Identification) defines the ability of a camera to deliver images that provide the desired image resolution at specific distances from the camera. (Learn more about DORI here)
Here, Bosch demonstrates the DORI capability of the 12MP variant with a subject walking slowly from the top of the scene in the video to the center of the image. Watch the DORI walk test here >>
Stairway with HDR Use-Case Demonstration
One of the most useful applications for a panoramic camera is in a stairwell. For years, security professionals have had to accept blind spots in the scene or had to deploy multiple cameras. Now, complete coverage is a reality with this camera.
Plus, this video also demonstrates the camera's ability to deliver exceptional images even with extreme backlighting from a window, referred to as a high dynamic range (HDR) scene. Watch as Steve, Joe, Tom, and Brad demonstrate the 100% coverage capability with the 12MP variant >>
Likewise, mounting the camera on a wall in an open space will deliver 180⁰ overview coverage as well. Watch this parking garage use-case example >>
Cafeteria Use-Case Demonstration
Providing complete, 360⁰ video surveillance of a large, open space is one of the top benefits of the new Bosch FLEXIDOME panoramic 5100i (IR) camera series. Viewing all entrances and exits as well as directly underneath the camera allows for general observation of the entire space while still providing recognition-level image clarity from as far away as 56' with the 12MP variant. In this video, Tom provides a walk test around the entire space as well as directly under the camera >>
Parking Lot at Night Use-Case Demonstration
Monitoring parking lot activity at night is important to retailers and organizations of all types. While lights may in place, supplemental IR illumination and a 360⁰ view of the large area is a big advantage. The 12MP IR variant of this camera series was put to the test with its IR illuminator on and off for comparison. Watch as Kevin and our resolution target, Digikin, demonstrate the capabilities >>
The camera's integrated infrared illumination (IR) array provides the flexibility to control IR intensity in multiple regions (zones) to prevent IR saturation of any portion of the image. Watch as Joe introduces the Configuration Manager page where these adjustments are made to the camera >>
Parking Lot Daytime Use-Case Demonstration
Monitoring parking lot activity during the day with lots of vehicles and people coming and going is important to organizations of all types. The 12MP variant of this camera series was put to the test by Steve, Brad, and our trusted resolution target, Digikin >>
Large Vehicle Garage Use-Case Demonstration
When it comes to video surveillance in a gymnasium, auditorium, or any large open space with a high ceiling, total coverage was only possible only by deploying many cameras, even for general observation. Today, it's now an affordable reality to install a single camera in the center of the space to capture all activity. In this video, Brad and Tom, accompanied by our Digikin resolution target, demonstrate the 12MP variant's capabilities in a large vehicle garage measuring approximately 80' x 80' >>
Video Analytics at the Edge
The FLEXIDOME panoramic 5100i (IR) delivers onboard AI with full intelligent video analytics capabilities. Watch below as the analytics engine performs one of its many features: Camera Trainer >>
Out of the Box and Installation Features and Benefits
What comes in the box? Security professionals need to know what they'll be working with when they receive a camera to be installed. Watch as Steve, Kevin, and Brad unbox the IR and Non-IR variants >>
With the growth of cloud-based and VSaaS options for security camera monitoring, remote commissioning, and maintenance, the use of in-camera MicroSD cards across the security industry is growing exponentially. (See Bosch VSaaS cloud-based suite of solutions here)
Watch how to install a MicroSD card for onboard recording as well as ease of surface mounting of the indoor variants >>
Watch how to install the I/O and power connectors, change lens orientation, insert and connect the ethernet cable, and install the included mounting plate with the IR variants >>
Get more details about ethernet cable insertion and other installation instructions in the Quick Installation Guide for the IR variants >>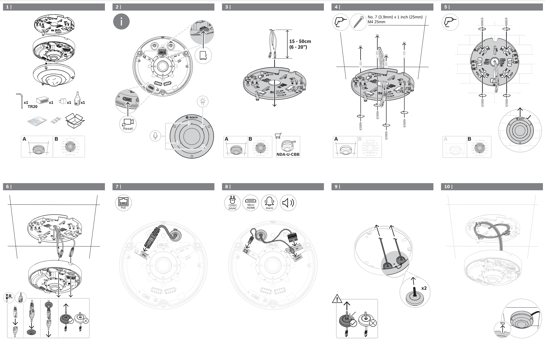 Mounting Hardware Options
Having a variety of mounting options allows system specifiers to place cameras exactly where they need to be placed for ideal image capture. Watch as Joe and Anders spell out the available mounting options and accessories >>