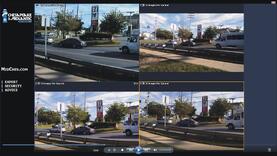 When considering how many images per second (IPS) are required for recording surveillance video in the event of the need for acceptable evidence, many considerations must be taken. IPS and "frame rate" are commonly interchangable terms. Most common considerations for selecting a specific recording frame rate include:
Speed of moving objects
Slight of hand
Fluid motion desired
Budget to store high frame rate video
Existing hard drive capacity
This video to shows the difference between 7.5, 10, 15, and 30 images per second.

Click here for the resolution comparison video

What exactly is Starlight ultra-low-light? Learn more about it here