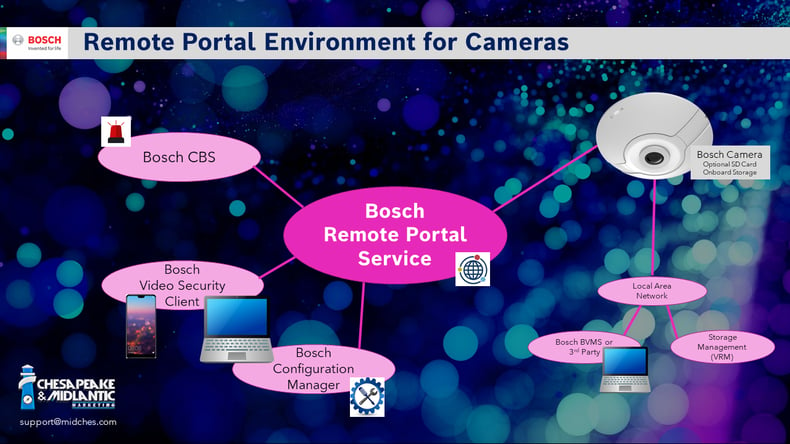 Bosch Remote Portal is a FREE cloud-based central service that simplifies viewing live and recorded security camera surveillance video. It is also the central hub for remotely connecting, managing, configuring, and monitoring the status of your Bosch cameras.
In this video, Joe introduces Remote Portal. Farther below, you will find four additional videos that show how the different services, software, and mobile apps work together to enable cloud-based functionality, simplifying the entire experience for the users and installers of the Bosch video surveillance system.
Benefits of Bosch Remote Portal >>
First, you're going to connect your Bosch camera to the Remote Portal service via a secure internet connection.
---
You're then going to be able to view live and recorded video from your mobile device with Bosch Video Security App and from a Windows 10 computer using Bosch Video Security Client. Recorded video can be played back from your Bosch BVMS or Divar IP video management system or from an onboard SD card in the camera.
---
You will be able to remotely configure your camera settings using Bosch Configuration Manager.
---
You will also be able to receive and manage push alarm notifications through the Site Monitor App, enabled by Cloud-based Services (CBS), on your mobile device or in a web browser on your computer.
---
All will work in parallel with your Bosch Video Management System (BVMS or Divar IP) or your 3rd party VMS for Bosch cameras on the system.
---
NOTE:
Expert consultation is essential before designing, installing, or upgrading a video management solution. Contact us for assistance here >>

---
Watch how Video Security Client and Video Security App work with Bosch cameras that are added to Remote Portal >>
---
Watch how alarms are handled in Cloud-Based Services (CBS) and received on the Bosch Site Monitor App >>
---
Watch how simple it is to add an existing, local Bosch camera to Remote Portal using Configuration Manager >>
---
Watch how to edit the configuration of a Bosch camera in Remote Portal using Configuration Manager >>
---
BONUS: Watch and learn more about using Bosch Video Security Client >>

---
Resources

Schedule a virtual demonstration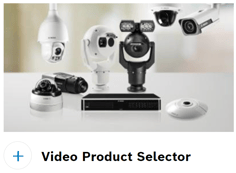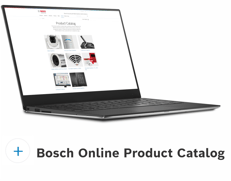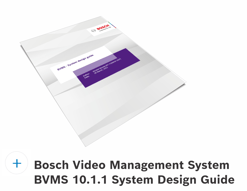 ---
Schedule a virtual demonstration >>

Contact us for system design assistance >>