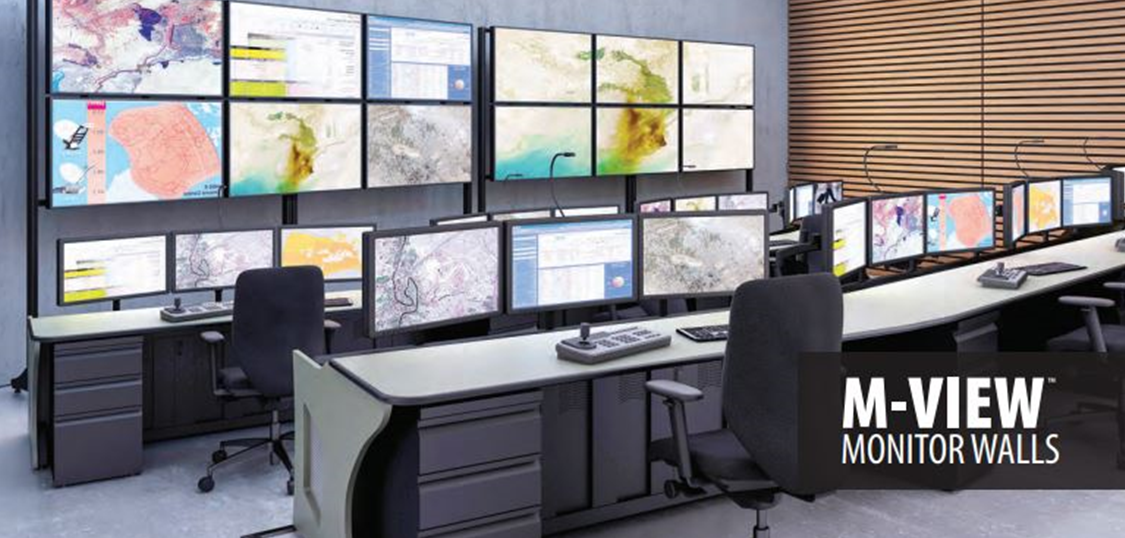 Keeping an eye on lots of security cameras or control systems often requires a large bank of monitors mounted for one or more operators to view easily. However, mounting multiple monitors directly to a wall may not be the best option.
Winsted offers the versatile M-View Monitor Wall solution which is an extruded aluminum wall completely modular for your control room. Their proprietary quick-release bracket makes adjusting and reconfiguring control room monitors fast and easy.
The stock monitor is fabricated from lightweight, high-strength extruded aluminum with a black anodized finish.
M-View can support any size flat-panel monitor.
It can be configured as an inline, concave, or convex mounting solution.

Multiple raceway channels are available for wire management.

The M-View can be expanded and reconfigured based on your changing needs.
M-View Rize Option
M-View Rize Monitor Walls are the perfect compliment to any console system, especially sit-stand configurations. As the operator changes the height of the console, the M-View Rize is able to adjust the height of the monitors on the wall in order to maintain proper ergonomics and optimal sight lines. Available in two standard configurations, Winsted offers a 43" wide configuration for a single monitor and an 83" wide configuration for dual monitors.
Two Ways to Design: MidChes or DIY
When it comes to creating a sample control room design, you can ask our team to work up a rendering or you can try it yourself using Winsted's WELS DIY software suite.
Seating Options
Dispatch chairs from Miller at Work are ergonomically designed to offer full support 24 hours a day. During a long shift, a comfortable, durable, healthy chair that holds up even under abusive conditions can make a huge difference in employee productivity. Miller at Work knows your employees work hard and your seats should work hard as well.
Dispatch seating can be custom designed to accommodate individual seating and comfort preferences. The size, the mechanism, the base, the seatback, the arms, the style, the color—every aspect of each ergonomic task chair can be made to order. Every feature and part comes in a variety of options to create the right chair for every employee, no matter their size. Large and tall accommodations are another specialty of Miller at Work. Every individual, no matter their size or job requirements, can have the right size and level of support to do their job with less fatigue and muscle or joint pain. The attention put into every detail, including neck cushions, lumbar support, and memory foam in every chair, is what sets Miller at Work chairs apart from every other dispatch chair on the market.
Learn more about seating options >>