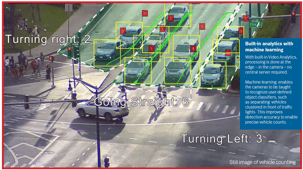 How do you choose the right technology to improve mobility, safety, and efficient use of roadways now and into the future?
Let's take a look...
For decades, Bosch has developed Video Analytics technology for driver-assistance, autonomous driving applications, and intelligent safety systems. This same technology is inside Bosch IP cameras, bringing intelligence to infrastructure through traffic flow and smart parking solutions. Video Analytics built-in to the cameras enables intelligent devices that can alert to safety risks and deliver valuable data for highway and urban infrastructure planning.
Beyond Safety
With Video Analytics, the IP camera becomes an intelligent sensor. Using video as a sensor, city traffic planning directors can continuously collect real-time data to analyze traffic flow and implement new policies that result in safer and more efficient roadways.
Data examples include:
▶ Pedestrian, bicycle, and vehicle counts
▶ Average speed and direction
▶ Road occupancy

In busy cities, Video Analytics can also help monitor parking lot occupancy, curbside parking, and enforce no-parking zones. In lots, cameras can count open parking spots or track ingress and egress, and relay this data to the video management and parking management systems. Sharing this information and alternative parking locations on a dynamic message sign can help drivers find
open parking faster and reduce traffic congestion and emissions.
Safety Enhancement
Early incident detection enables operators to implement the necessary workflows to resolve incidents faster
Integration with dynamic message signs and DSRC broadcast messages ensure drivers are instantly alerted to safety issues and improves situational awareness
Detection of pedestrians in a crosswalk can alert the traffic controller to preempt traffic signals to increase safety for people in the intersection
Jaywalkers at night can trigger the IP camera to activate an on-board white light illuminator to make pedestrians more visible for drivers
Pedestrian, bicycle, and vehicle counts
Average speed and direction
Road occupancy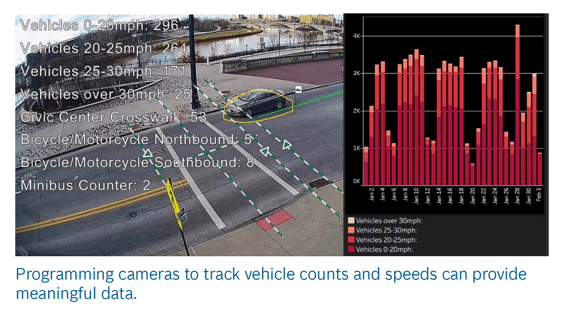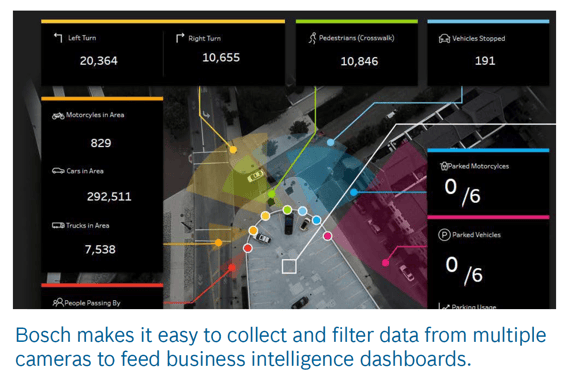 Analytics Webinar Overview and Scheduling >>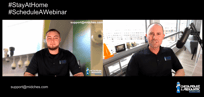 Smart Columbus Experience Center case study >>

Smart City Solutions here >>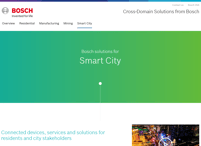 Read more about analytics-driven video solutions for ITS applications here >>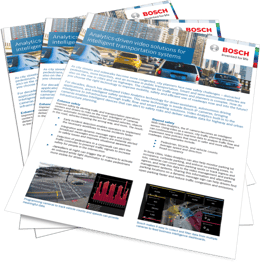 Watch video analytics examples in this interactive PDF here >>

Contact our team for system design assistance >>