With more cameras being deployed, security managers need to consider creative ways to display and manage a large number of video streams with limited manpower and command center space.
Key considerations include:
Number of system operators
Total number of cameras in the system
Knowing which cameras need to be viewed upon alarm and which have constant important activity
How many cameras need to be viewed 24/7?
Can video analytics reduce the number of cameras to be viewed at any given time?
Less than 10% of video is actually applicable for live viewing
90% of video is data stored for later investigation or business operations analysis
After 20 minutes, 90 % of video activity is missed
How many monitors are required to view the number of active cameras?
How much room is dedicated to the command center console furniture?
What systems need to be in/on the console?
Console furniture ergonomics
Sit versus sit/stand furniture options
Console design assistance
Nick Hoyt walks through command center video viewing and console furniture design considerations in this short video:
Command Center Console Systems
Winsted consoles are ergonomic, adaptable, and modular to provide users with the flexibility to fit any control room environment. Viewing angles and monitor sight lines are easily optimized based on personal needs.
Design Assistance
Contact our team to design your next desk, console, or command center.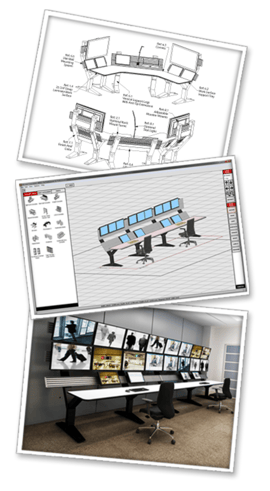 Sit-Stand Desks are Increasing in Popularity
It's no secret that sitting at your desk all day can have a significant impact on your physical and mental well-being. Today's workforce is getting upright and finding ways to fight against rising health concerns at work.
In the video below, Winsted takes on challenges faced by those using sit-stand work-spaces for security operations.
According to James A. Levine, M.D., Ph.D. of the Mayo Clinic, sitting for long periods of time is associated with obesity and metabolic syndrome — a cluster of conditions that includes increased blood pressure, high blood sugar, excess body fat around the waist and abnormal cholesterol levels. Dr. Levine goes on to note that too much sitting can increase the risk of death from cardiovascular disease and cancer.
Dr. Levin offers that the solution may be as simple as less sitting and more moving. He suggests that you might start by simply standing rather than sitting whenever you have the chance. Examples cited by Dr. Levine include:
Stand while talking on the phone or eating lunch.
If you work at a desk for long periods of time, try a standing desk — or improvise with a high table or counter.
Walk laps with your colleagues rather than gathering in a conference room for meetings.
Position your work surface above a treadmill — with a computer screen and keyboard on a stand or a specialized treadmill-ready vertical desk — so that you can be in motion throughout the day.
Sit/Stand Console White Paper: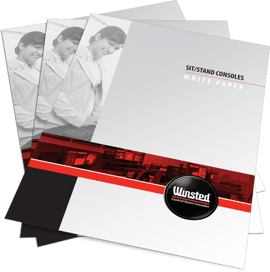 For workers looking to get upright and moving, there's a great technology shift underway: adjustable height desks.
Sit/stand consoles are a great choice for an ergonomic upgrade. Impulse Consoles by Winsted take ergonomics and operator comfort to a whole new level by offering two independently adjustable, ergonomically curved work surfaces. Studies have shown that too much sitting can be detrimental to your health. Movement throughout the day is important to maintaining good health. Alternating between sitting and standing is a healthy activity that increases energy and reduces fatigue. Sit/stand consoles also provide adjustability to meet the needs of each individual operator.
The 9-1-1 Dispatch market was the first user market to adapt sit/stand technology in the early 90's. Considering that a Dispatcher's job is one of the most stressful and they are dealing with people who may be experiencing the most tragic event of their lives. The Dispatcher must be intent on the caller and the situation being discussed. It is imperative to keep Dispatchers alert and comfortable while they perform their duties. Features like sit/stand provide the Dispatcher with better control over their environment, with the end goal of reduced stress and improved health.
Recent studies have shown that if a person can stand for 15 minutes of every hour it has the equivalent effect of walking 3 miles a day. Better health also means reduced stress or better capability to handle stress. Since many in the Security industry come from the Law Enforcement profession, it is very common to see sit/stand technology in a Security Operation Center.
Mission Critical Example: Impulse is a predesigned, prefabricated product. It's price point for a 70" wide unit with (2) counters that raise and lower independently of each other and posts and mounts for (3) monitors and a CPU tray sells for less than $5,000 MSRP. Impulse is a steel based product with industrial lifts. The Versa-Trak is a curved track system on the Impulse to secure posts and mounts for monitors and other devices at the console and to provide improved ergonomics for the layout of the monitors. The lifting capacity for each work surface is over 500 pounds on the Impulse, the consumer grade is commonly rated at as low as 150 pounds. There are also multiple work surfaces available on industrial designs.
Consumer versus Industrial Grade
One of the first things you'll encounter when researching sit/stand desks is a wide gap in pricing, features, life-span, and warranty.
When thinking about a 24/7 industrial or commercial use, you must first consider the use requirements as compared to residential or low-use options.
Consumer grade product is meant for home or home office use. Standard office furniture is manufactured to be used 40 hours a week or 2080 hours a year. Command center console furniture is designed, manufactured, and warranted to be used 24 hours a day, 7 days a week or 8,760 hours a year in a mission critical environment. If you use a consumer grade or commercial office grade product in a 24/7 hour environment it will not hold up well and you will have voided the warranty since the product was not used within the terms of its warranty. For example, Winsted offers a lifetime warranty on its consoles.
It might seem like an acceptable alternative would be to annually buy and install new consumer grade desks. That would save you dollars on the price of the desks, however may cost more in the inconvenience of dismantling and removing electronics from the desks, dismantling and removing the desks, then assembling new desks and re-attaching electronics to the desks. There would also be the constant service and replacement of individual desks as they break in this harsh environment. Also, there may be an impact in deliverable service to the public as a dispatch station or the entire facility may not be available to provide service. This would not be acceptable for an organization that is committed to providing "Five 9's" of reliability to its customers.
Consumer grade and mission critical, industrial grade, both have their place in the furniture market. The applications for the products are very different and their construction reflects that.
Winsted is taking the mission critical sit/stand desk to the next level with features like powered raise/lower, concealed wire management, and more.
View brochure here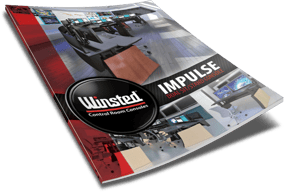 Mayo Clinic article by Dr. James A Levine, M.D. Ph.D.: http://www.mayoclinic.org/healthy-lifestyle/adult-health/expert-answers/sitting/faq-20058005