Security system keyfobs pose a potential risk to your security plan.
Keyfob signals can be "intercepted" and an intruder can deploy a replay attack on your system, allowing an unauthorized person to gain access to your facility.
Although there is no perfect security system, signal encryption helps assure the bad guys will fail at the task of signal interception. New security companies, as well as experienced professionals, searching for something a step above the traditional should look for systems that provide secure signal transmission centering on encrypted data.
Bosch has expanded its portfolio of RADION wireless products with the addition of several new RADION keyfobs with synchronized encryption technology.

ASK US FOR SYSTEM DESIGN HELP HERE
These new keyfobs increase immunity to replay attacks and provide an additional layer of protection to the RADION portfolio which has already achieved numerous global security regulatory certifications.
Building on the Bosch tradition of innovation in intrusion detection, the new RADION keyfobs:
Use a rolling code synchronized encryption transmission
Include panic alarm, LED indicator, programmable option buttons, long battery life, and reliable RF communications.
"Bosch control panels support multiple wireless platforms, including Bosch RADION, as well as Inovonics Echo-Stream. RADION utilizes synchronized encryption for keyfob communications, which provides increased immunity to replay attacks for more reliable system security," says Tom Mechler, application design manager with Bosch Security Systems of Fairport, NY.
"In addition to encrypting the transmission, the system and keyfob also maintain synchronization. Every time a keyfob button is pressed, it increments the code. Similar to traditional rolling code schemes, it uses an incremented code for its next transmission. The receiver knows to look for this incremented code and will not accept messages that do not match. This thwarts attempts to record and replay the transmission. By combining synchronization and encryption, the Bosch RADION platform provides reliable, secure system operation," says Mechler.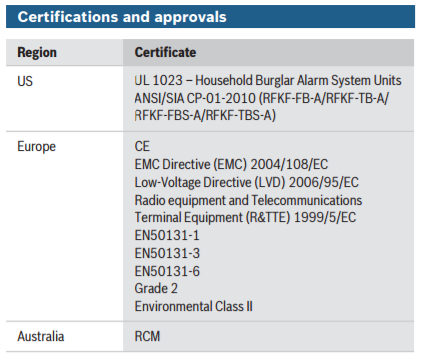 ASK US FOR SYSTEM DESIGN HELP HERE