Using Power over Ethernet (PoE) at the edge has generally been limited to IP security cameras and a small handful of other detectors. Until Now...
Southwest Microwave introduced PoE technology that powers fence intrusion detection and microwave intrusion detection systems. Using PoE for perimeter detection solutions provides significant advantages:
On-board network servers enable new capabilities

Sensor setup / administration from a browser on any connected PC or mobile device
Real time alarm reporting to multiple controller types
Standard IP-network hardware for all connections

Power & data over Ethernet reduces hardware requirements

No DC power supply or battery, EMI/RFI line filters, JB70A, data cables, or power cables

Reduces labor, cost for device setup, and integration
Sample PoE Deployment Diagram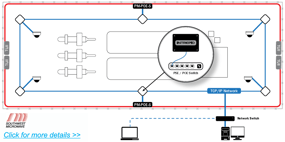 PoE for PIDS Details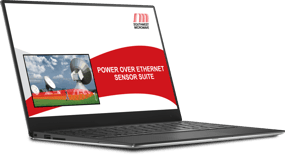 Contact us...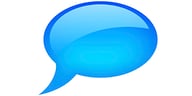 PoE System Controller Details...
INTREPID™ POE System Controllers provide flexible perimeter security management options for Southwest Microwave's IP-based POE detection technologies, enabling the development of an alarm monitoring and control program to suit a facility's unique requirements. INTREPID™ POE Controllers offer scalable, plug-and-deploy solutions to manage sites of any size or configuration, with features ranging from local or remote relay control to centralized TCP / IP-based management of large or multi-site applications.
INTREPID™ POE Controllers conveniently and reliably manage INTREPID™ POE perimeter detection sensors, including Model 316-POE (CE), Model 334-POE-S and Model 336-POE Digital Microwave Links, and MicroPoint™-POE-S Fence Detection System.
These controllers enable the assignment of alarm inputs to specific perimeter zones. Zones may be visually depicted on a graphic user interface (GUI) and / or trigger outputs such as relay closures and camera PTZ presets so that when a perimeter breach is detected, precise visual assessment is achieved.
INTREPID™ POE Controllers seamlessly integrate INTREPID™ POE devices via TCP/IP network communications protocol using a standard Ethernet connection. Control modules also manage auxiliary security devices and interface with assessment equipment (CCTV / NVR) or other system outputs.
An INTREPID™ POE Software Development Kit (SDK) is available to developers at no cost for high-level interface of INTREPID™ POE sensors into custom monitoring and control applications.