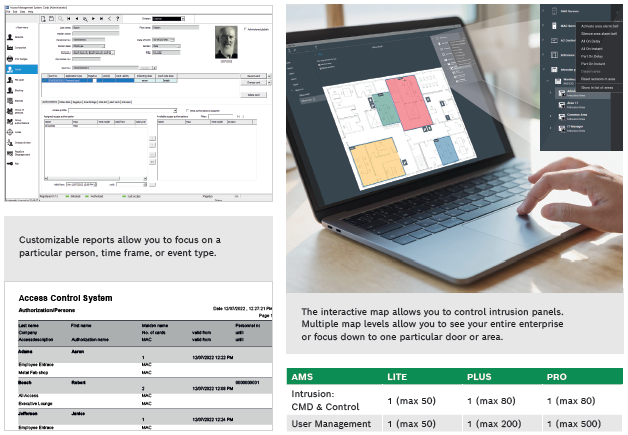 Bosch AMS software provides comprehensive, software-based integration for Bosch intrusion panels.
◾ Command and control intrusion systems
◾ Manage users across multiple areas and panels
◾ Generate user-friendly reports by time, date or event
◾ View real time status of system events on an interactive map
◾ Latest Bosch intrusion panels supported
Command and control intrusion systems, arm/disarm and bypass points, lock and unlock access doors on
the panel, and manage users across single or multiple areas and panels. Drag and drop icons on a fully
interactive map to improve situational awareness.
Provide situational awareness. Locate devices from a system tree, including the control panel, and be taken to their exact placement on the map. A dashboard can be created that will provide the real-time status of your systems, by area, point, or panel. Consider this as your intrusion panel management solution, with or without the access features of AMS. You have the flexibility to implement in a fashion that meets your application needs.
A simple reliable IP solution for user management and control of Bosch intrusion panels.
Command options from an Interactive map
◾ Master Arm
◾ Master Arm Instant
◾ Partial Arm with Delay
◾ Force Arm
◾ Disarm
◾ View Point Status
◾ Bypass Points
Control of the access doors on the intrusion panel
◾ Lock
◾ Unlock
◾ Cycle
◾ Secure
User management
◾ Add or remove user
◾ Assign authority rights
◾ Assign panels per user
◾ Assign areas per user
◾ Manage cards and codes
◾ Create authority groups
◾ Active directory support
Download the solution flyer here >>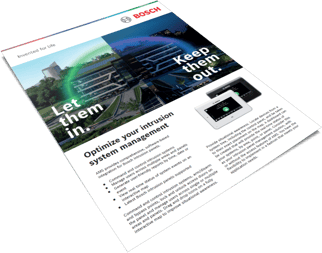 Contact us for a demonstration >>