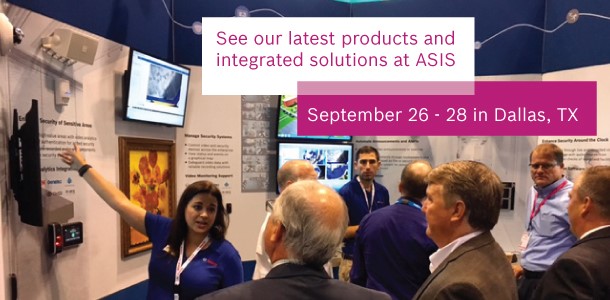 Just because you're not headed to ASIS doesn't mean you shouldn't know what's being showcased there. If you are headed to ASIS, visit the Bosch booth #3333 to see integrated security solutions that include intrusion detection, access control, video surveillance, and monitoring. They'll be showing how to:
Increase facility security and automate functions for easy operation
Protect sensitive areas with video analytics and dual authentication
Use the Bosch Video Management System (BVMS) for enterprise-wide control of video and security devices
Enhance security around the clock through remote video monitoring services
Experience the benefits of an integrated system, get details on their latest offerings, and preview new products launching this fall:
And learn how Bosch products integrate with a range of security software solutions from other industry providers.

Contact our team to discuss these solutions