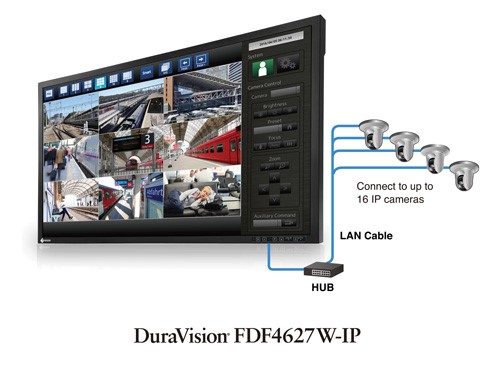 High Performance Decoding Technology
The monitor comes equipped with decoding technology to ensure that images are displayed with no delay and are true to the original source data. This eliminates the need for an additional decoder.
Simple VESA Installation with PC-Less Capability
The DuraVision FDF4627W-IP supports VESA mount configuration for installing on a wall or ceiling. It does not require a PC to operate, significantly reducing the time, costs, and labor of installation while also simplifying cable management.
Efficient Video Management on a Large Screen
The monitor displays the video feed from up to sixteen separate IP security cameras via LAN cable across its large 46-inch screen.This provides ample space for clearly viewing multiple video feeds at once. Images are displayed in real time so operators can assess any situation quickly.
Visibility in Dark Areas with Smart Insight
Smart Insight visibility-enhancing technology automatically detects areas that are dark and difficult to see by adjusting the brightness of each pixel, brightening images while reproducing them with a realistic sense of depth. Areas that are difficult to see due to low ambient lighting are enhanced for increased visibility.
Customizable Event Response to VMS
The monitor's web API supports customizable integration with the local video management system (VMS). This allows operators to assign a specific response from the monitor to automatically occur based on a preset time schedule or when a particular event takes place.

Optimize Camera Settings
Individually optimize Smart Insight and Smart Resolution function settings for up to 4 connected cameras in any layout. This is helpful when multiple cameras are used in environments with differing ambient lighting conditions,
Day and Night Preset Modes
Day and Night preset modes are optimized for displaying images under different environmental conditions throughout the day. You can easily switch between modes with the included remote control.
Smooth Image Display
The monitor reproduces smooth images by converting an 8-bit input signal to 10 bits within the monitor and selecting the optimum color values from a 10-bit LUT. The optimized data is then converted back to an 8 bit output signal, resulting in smoother gradations. This is helpful in identifying difficult to distinguish people and objects.
Easily Adjust Settings
Settings such as video layout and camera control are adjustable manually using the included remote control or via the user-friendly web UI for flexible operation.
ONVIF Camera Support
The DuraVison FDF4627W-IP supports IP cameras with ONVIF Profile S for flexibility of installation and ensured interoperability with a wide range of products.
Sharper Images with Smart Resolution
Smart Resolution blur-reduction technology analyzes the displayed content and ensures that noise is not accentuated while correcting blurred areas for a sharper, clearer image. For images with a great deal of depth, it sharpens the foreground more strongly to maintain a real world sense of focus.
Excellent Readability
The high brightness of 700 cd/m2 and 4000:1 contrast ratio offer excellent readability in changing ambient lighting conditions.
Noise Reduction
The monitor includes settings to reduce the amount of block noise that occurs due to video compression.
Flicker-Free Images
The monitor is equipped with an LED backlight to regulate brightness and make flicker unperceivable. This greatly reduces eye fatigue when viewing the screen for extended periods of time
Wide Viewing Angles
The DuraVision FDF4627W-IP uses a non-glare VA panel with wide viewing angles for minimal color shift and contrast change no matter where the monitor is viewed from. This ensures accurate color reproduction and clear visibility all the way to the corners of the screen.
Learn more here or at ASIS Booth #3962