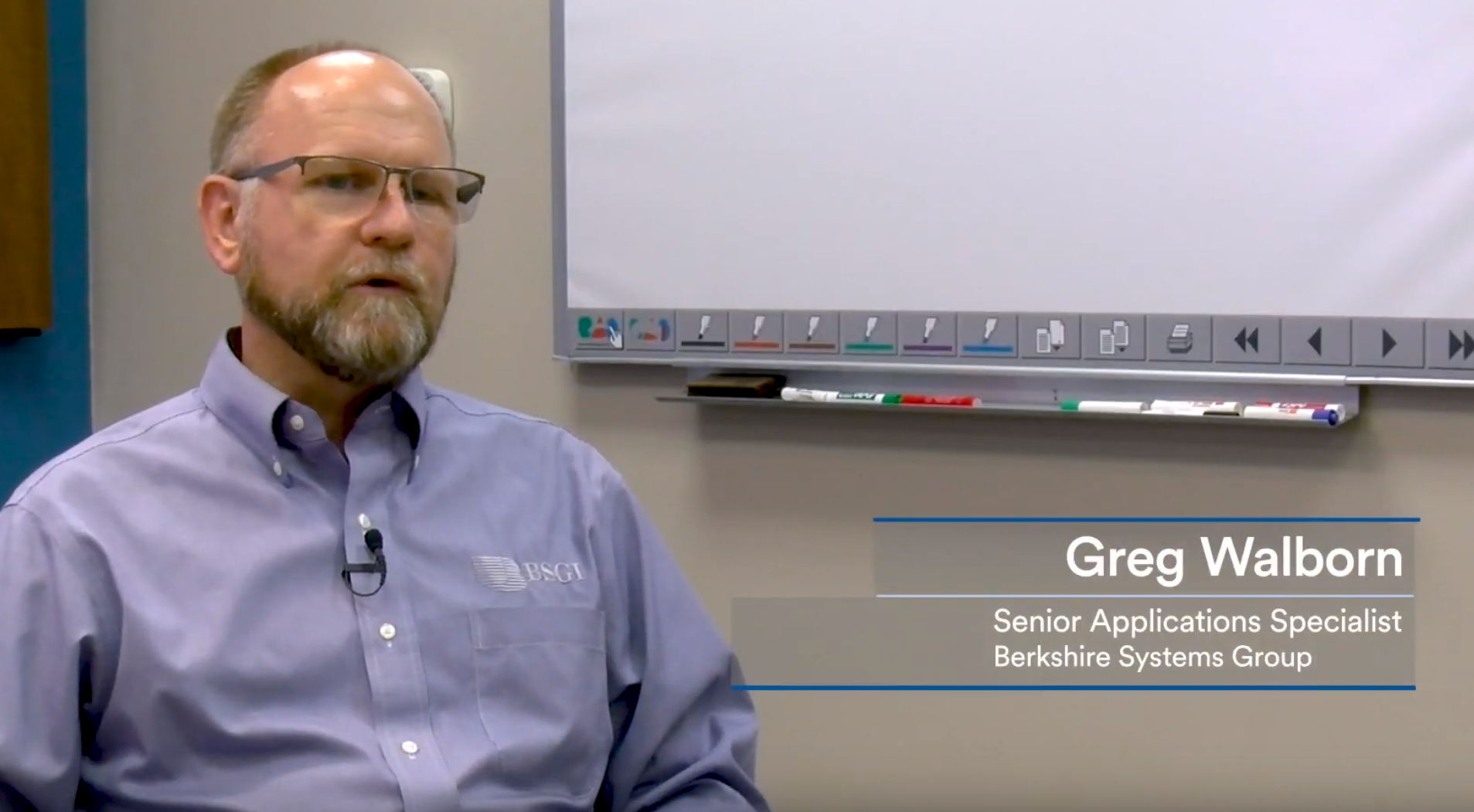 Berkshire Systems is a system integrator that focuses on getting the best security solutions for their end users. In the interview below, Senior Applications Specialist Greg Walborn talks about the advantages of having EIZO's IP decoding monitor as a part of those solutions.
And today, EIZO also offers a stand-alone decoder for applications where you want to use your own display device.
IP Monitor Decoding
Improve set up time and reliability by eliminating extraneous hardware, software, and cabling.
Simplify maintenance by remotely allowing users to set up and control the monitors from another building, across the city or from another part of the world.
Improve situational awareness by displaying a crisp, clear and bright image.
Increase safety

by receiving and displaying alarms from cameras, entry systems other security systems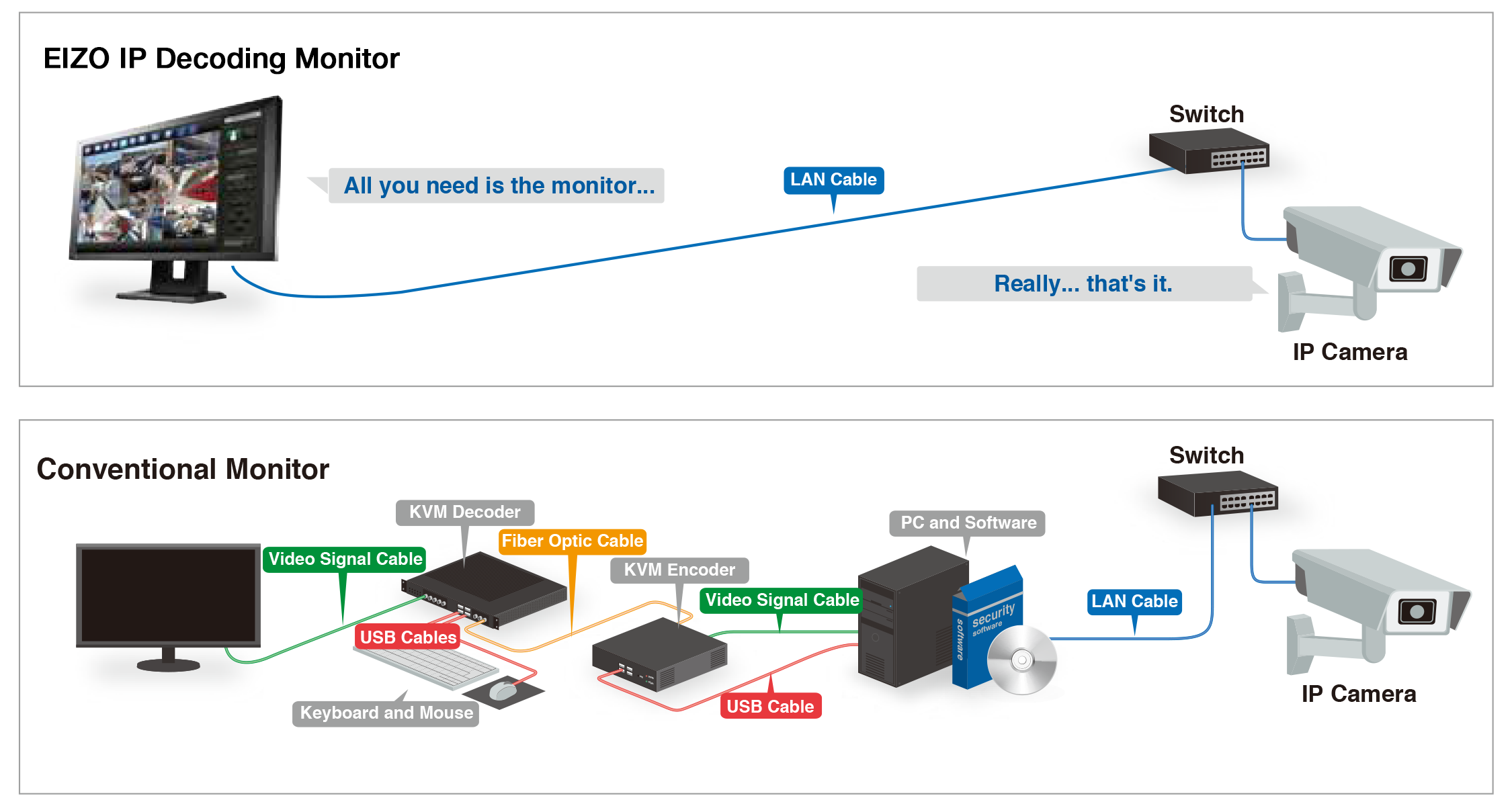 Standalone Decoding

The DuraVision DX0211-IP is an ideal solution for standalone or integrated video walls and multi-monitor security environments. It features powerful decoding performance, flexible video management, and a compact design.
Watch the video >>
The DuraVision DX0211-IP brings EIZO's innovative decoding technology from its unique IP decoding monitors to an external box format. It decodes and compresses multiple feeds from IP cameras for displaying video in real time. It can be used with varying monitor sizes and resolutions, making it ideal for video walls and multi-monitor environments.

Integrated Solution
The DuraVision DX0211-IP connects to an IP camera or switch and streams video directly to a connected monitor. It does not require a PC, software, or other hardware to operate, greatly simplifying installation and saving on time and labor costs. This also eliminates several potential points of failure typical of a conventional setup by heavily reducing the amount of equipment needed to manage sensitive visual data.

Video Decoding
The DuraVision DX0211-IP can decode and compress H.265 (HEVC)*, as well as H.264 and MJPEG codecs, displaying them in real time for assessing any situation quickly. In addition, the decoding technology ensures a high fps (frames-per-second) for displayed content, even when streaming high-resolution video. For example, 16 Full HD (1920 x 1080) video feeds displayed simultaneously on a single monitor achieve a consistent 20 fps.
*Currently supports H.264 and MJPEG. H.265 support planned for end of 2019.
4K Output to Dual Monitors
The DuraVision DX0211-IP is equipped with two HDMI outputs that support 4K UHD resolution (3840 x 2160) on up to 2* monitors. This allows users to flexibly combine different resolutions in a viewing environment, such as Full HD and 4K display.
*Currently supports a single monitor. Dual-monitor support planned for end of 2019.

Support for Over 250 Cameras
The DuraVision DX0211-IP supports cameras with ONVIF Profile S, Axis VAPIX, and Panasonic protocols for flexible installation and ensured interoperability with a wide range of products. In addition, a direct connection through RTSP is available (Direct URI).
Currently supports ONVIF Profile S only. Axis VAPIX and Panasonic protocol support planned for end of 2019.


Contact our team for system design assistance >>