We're kicking off security discussions in 2020 at the perimeter. In 2019 we fielded a few common questions about strategies and solutions for perimeter intrusion detection. Plus, we tackled common questions about perimeter detection strategies that are worth recapping. Below are the top 5 perimeter intrusion detection topics from 2019...
Rigid and decorative fence intrusion detection
Lightning and surge protection
Fence sensor cable repair
Stacked microwave detection strategies
Armored fence sensor cable applications
Contrary to popular belief, reporting the precise location of a fence intrusion is not the primary benefit of location detection. The ability to tune out nuisance alarms by determining the precise location of fence noise and recognizing the difference between distributed events (or events in multiple locations along the fence) and actual intrusion scenarios is the key.
Every fence intrusion detection system detects vibrations, however the ability to use location detection to accurately tune out NAR/FAR (Nuisance and False Alarm Rates) is the differentiator. Be sure to request an on-site competitive demonstration here >>.
Rigid and Decorative Fence Intrusion Detection
When deciding that it's time to add fence protection to a rigid or decorative fence, end users often think they have limited options. In the video below, Steve Pennington and Jeff Drews discuss strategies and solutions for these types of applications. Then, Brad Castillo and Tim Claus help Jeff test a rigid fence intrusion detection solution.
During the video, we get some excellent advice about fence intrusion detection system testing:
The cut simulator tool mimics an intruder using bolt-cutters, and an actual climber is the only accurate method to conduct a climb test.
Testing the fence must be done from the outside (unsecured side) of the fence or it's not a real test. Many times, customers with rigid fences will complain that they are getting nuisance alarms and are also having difficulty detecting a climber. In nearly every case, we've found that they are testing from the inside (secure side) of the fence.
Lightning and Surge Protection
There's understandable concern in the security industry when it comes to protecting equipment from lightning and other power surges. And putting cables along a metal fence around an entire perimeter just adds to the complexity level. In the video below, Tom Fontana and Tim Claus discuss the threat of power surge and how systems can be designed to minimize the risk.
Fence Sensor Cable Repair
There can be significant risk involved when a fence intrusion detection system is compromised by a broken or damaged sensor cable. Joe Barnhart and Tim Claus walk us through a cable splice in this video.
Worth noting:
It takes less than 15 minutes, minimal training, and only a couple common tools to repair damage to a copper-based fence intrusion detection sensor cable in most cases.
Stacked Microwave Detection Strategies
Using microwave detection to secure a perimeter is a strategy commonly used when a fence isn't an option or when multiple layers of security are required. Below, Tom Fontana and Tim Claus discuss the use of multiple microwave detection sensors and the technology involved that makes these strategies possible.
Helpful hints:
The beam width and shape is fully dependent upon distance between the Tx and Rx devices and the flatness of the terrain between them.
The goal is to achieve the highest possible alignment signal and use the lowest possible sensitivity setting. In most cases, customers will attain a basic alignment and then turn up sensitivity to compensate. This will cause poor performance and high NAR/FAR.
Adjusting sensitivity is time consuming, plan for this during installation.
Armored Fence Sensor Cable Applications
To minimize the risk of suffering damage to a fence intrusion detection sensor cable, the use of armored cable is sometimes the best option. In this video, Tom Fontana and Tim Claus discuss the use of armored sensor cables and show us the difference.
In this video, we learn two primary applications for using armored cable:
Rigid fence – armored sensor cable has an enhanced ability to mute high frequency vibrations on rigid fencing and nuisance alarm filtering in this application.
High traffic areas – if the fence is next to a high traffic pedestrian area, then it may make sense to use armored cable. That way, if people are regularly handling or tampering with the cable, it doesn't damage the actual sensor.
Perimeter Intrusion Detection Strategies
Detection of a potential or confirmed breach of the property perimeter provides time for police or guard forces to intercept a threat before the loss of property or harm to staff. Facilities with perimeter detection in place range from remote petrochemical or cellular sites to vehicle processing or storage facilities to critical infrastructure.
There are many things to consider when evaluating your current or new perimeter detection strategy. In this series of informative videos, Tim outlines the top considerations and strategies for deploying a perimeter intrusion detection solution.

Perimeter Intrusion Detection Site Survey Guide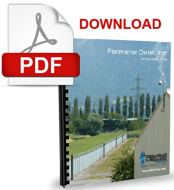 MIGRATION STRATEGY GUIDE: Fence Mounted Intrusion Detection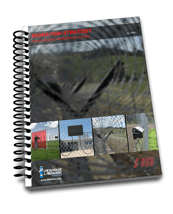 Check out perimeter intrusion detection solutions from Southwest Microwave here >>