Our colleagues at Razberi and Comnet are always reminding us of the use of proper computer and network hardware when it comes to harsh environments like bridges, tunnels, petrochemical, critical infrastructure, and other extreme applications. Below, we learn a bit more about the importance of deploying the right computer hardware at the edge.
As the demand for edge surveillance grows, so does the need for dependable technologies such as rugged NVRs (Network Video Recorders). These devices act as a hub for IP-based security cameras and can be deployed in areas with minimal infrastructure and harsh environments.
Many industries, such as oil & gas or utility, have a responsibility to monitor remote or exposed locations where appliances may encounter:
Extreme hot or cold temperatures
Dust
Rain
Snow and ice
Chemicals
Sunlight
Accidental impact
Vandalism
Sensitive video equipment has a hard time operating under these conditions. However, rugged NVR and edge surveillance devices are designed for the edge, supporting surveillance even in challenging environments. Rugged NVRs offer significant advantages for edge protection:
Minimal infrastructure needs – Installing cabling to remote locations can be near impossible. A rugged server can connect security devices using a cellular uplink to transmit video and can even use solar power where electrical infrastructure is unavailable.
Optimized bandwidth – Edge computing lets you do localized software load, which means video is recorded at the edge and communicates the most important data back to a centralized command center. This limits bandwidth requirements.
Cost savings – Deploying standard equipment at the edge in remote locations can get expensive. The costs of using a standard device include infrastructure, a NEMA/IP enclosure, air conditioning, and power to run the AC modules. A rugged NVR doesn't incur these costs, saving an integrator and system owner money upfront. A ruggedized unit is comprised of fewer moving parts, meaning less potential for costly mechanical failure.
Learn more about rugged video surveillance solutions here >>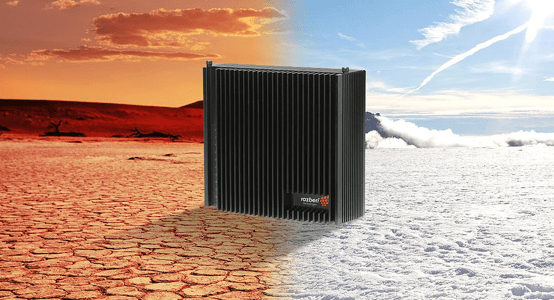 Contact us for system design assistance from switch to edge >>