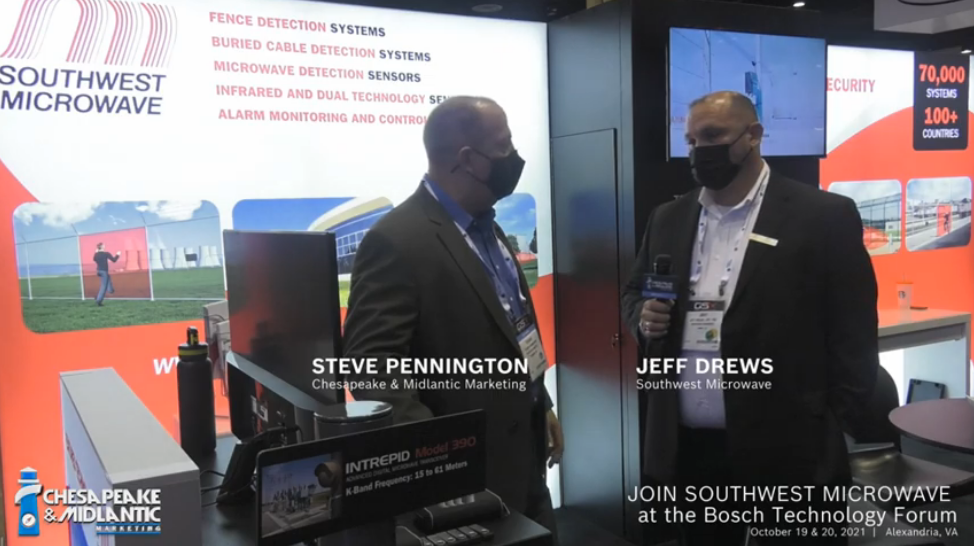 We know many of our customers and partners couldn't make it this year to GSX 2021 in Orlando, Florida, so we are bringing you some information from our manufacturer's exhibits.
In this video, Steve talks to Jeff Drews from Southwest Microwave >>
Southwest Microwave demonstrated advanced, IP-based detection technologies and partner solutions during the exhibition:
New

Model 390

and

Model 395

Digital Microwave Transceivers: Southwest Microwave is launching two K-Band new digital transceivers this year to complement our broad range of digital and IP-based microwave links. These sensors offer advanced digital signal processing for high probability of detection (Pd) and a low nuisance alarm rate (NAR), along with high-performance features such as Range Cutoff (which rejects microwave targets beyond a preselected range, including large targets like metal fences, vehicles or aircraft) and Zero Range Suppression (which reduces the amplitude of targets close to the sensor head, preventing nuisance alarms caused by rain, birds or windblown objects.) These transceivers are our first "hybrid' technologies, offering both IP and relay-based alarm monitoring and both Power over Ethernet and 10.5-60 VDC input power options.

MicroPoint-POE-S

IP-Based Fence Detection System: Another of the high-performance solutions in our IP-based / POE product suite, this advanced fence detection system couples the field-proven performance of our MicroPoint II system with the convenience of secure, TCP/IP network integration and Ethernet-based power. Now in the field for 18 months, Southwest Microwave customers are reacting very positively to an IP-based FDS option from Southwest Microwave!
Model 334-POE

and

Model 336-POE

Digital Microwave Links: These volumetric IP-based detection sensors offer embedded digital signal processing for high PD / low NAR and simplified, cost-effective deployment using a single Ethernet connection for communications and power. As Southwest Microwave's analog microwave links get closer to retirement in December 2022, POE and conventional digital microwave links are excellent alternatives when discussing microwave Path to Upgrade.

Ameristar High Security Fencing: As customers with higher security needs transition from standard chain link fencing to anti-climb and crash rated alternatives, Southwest Microwave has continued to invest in our partnership with Ameristar Fence Products (and other fencing partners) through ongoing testing of our fence detection systems on their high security fencing at our Test & Demonstration Facility in Maricopa, AZ. Southwest Microwave is will promoting the ease of integration between our solutions and Ameristar's by demonstrating MicroPoint-POE-S on a unique High Security Fencing Tower featuring four Ameristar fabric panels (Matrix X-Screen (louvered mesh), Matrix X-Span and X-Span Modified (expanded metal), and WireWorks Anti-Climb (welded mesh) to ensure that customers understand the flexibility of Southwest Microwave fence detection systems, which have been field-tested to operate on a broad range of fabrics.




Meet with Southwest Microwave at the Bosch Technology Forum in Alexandria, VA on October 19-20, 2021 - register here >>
Learn more about Southwest Microwave perimeter intrusion detection systems here >>
Contact us for system design assistance >>