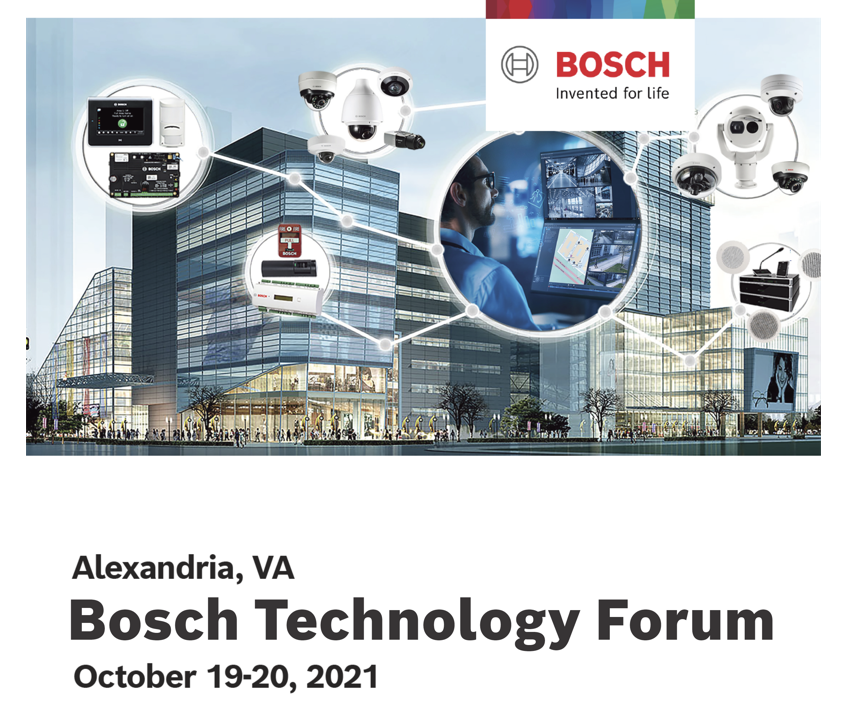 Please join us for the Bosch Technology Forum featuring technology presentations and interactive exhibits for video surveillance, intrusion detection, voice communication, command center, and more. Explore solutions for government, campus, traffic/ITS, smart cities, critical infrastructure, and enterprise security applications.
Technology Presentations and Interactive Exhibits 8:00am-5:00pm
NOTE: Due to Covid-19 occupancy limits, attendance is extremely limited. As a result, RSVP is required and the exact location and address of the event will be provided upon registration. Please use the link below to register. Thanks for your understanding.
---
TECHNOLOGY PRESENTATIONS - Mezzanine Level
TUESDAY, OCTOBER 19
8:30am - Camera as a Sensor - leveraging camera technology beyond basic security applications - ITS/traffic, smart cities, and more
9:45am - INTEOX / S&ST - Security and Safety Things open platform cameras running 3rd party applications - LPR, safety enforcement, and more
10:45am - Audio Analytics - detecting and reacting to sound anomalies using cameras
12:30pm - Data Aggregation and Analysis - managing camera-generated metadata for operations optimization
1:30pm - CPP Roadmap - future Bosch camera capabilities
2:30pm - BVMS 11.0+ - where we've been and where we're going, what's new in BVMS 11.0 features today and tomorrow
WEDNESDAY, OCTOBER 20
8:30am - Secure by Design: Bosch Camera Cyber Security -As more video security cameras get connected to the Internet of Things (IoT), they are transitioning into intelligent sensors that collect significantly more data than video security images alone, making cyber and data security even more essential. That is why Bosch embraces an end-to-end approach to maximize data security and ensure the proper measures are in place for physical safety and cybersecurity.
9:45am - Cyber Security Deeper Dive - digging into the details of how Bosch implements cyber security measures in cameras
10:45am - Intrusion Detection Solutions – where we've been and where we're going, systems integration, & advanced encryption capabilities
12:30pm - Voice Communications Systems Integration – integrating public address with video and intrusion detection systems for automated and unified operations
1:30pm - Integration Partner Program – partnerships, SDK processes, integration capabilities, and applications
2:30pm - Installation Tools – some of Bosch's best kept secrets: remote portal, video security app/client, future of Bosch cloud services, project assistant, intelligent insights, configuration manager, alarm management, cloud recording, T2GO, and more!
NOTE: Schedule and presentations subject to change
---
INTERACTIVE EXHIBITS - First Floor Ballroom
October 19 & 20, 8:00am-5:00pm
---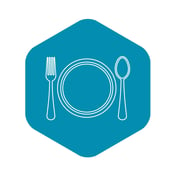 LUNCH
Take a Break from Learning or Make it a Working Lunch on Us
October 19 & 20, 11:30am-12:30pm
---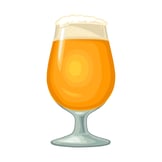 NETWORK WITH THE EXPERTS
Learning Happy Hour
October 19 & 20, 3:30pm-5:00pm
---
REGISTER TODAY!
Due to Covid-19 occupancy restrictions, the event location will be provided in your confirmation email
Complete the form below to register. We can't wait to see you in Alexandria, VA October 19-20, 2021.
---

CALENDAR PLACEHOLDER
Click here to add the Bosch Technology Forum to your calendar
---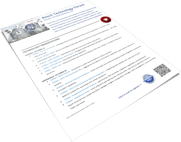 DOWNLOAD EVENT INFORMATION
Click here to download the event information PDF
---
HAVE QUESTIONS?