Day 1 ended before we could compile all of our solution discussion videos, so in this report, we start out with the end of Day 1 at Orion Entrance Control where we finish up the three part video series discussing turnstile maintenance and management software and Secure DoorGuard™ for high accuracy tailgate detection that uses disruptive, solid state LiDAR technology. DoorGuard™ accurately determines when there's an attempt to gain invalid entry through a secured access point.
Turnstile Maintenance and Management Software
DoorGuard™ for high accuracy tailgate detection and occupancy counting
Day 2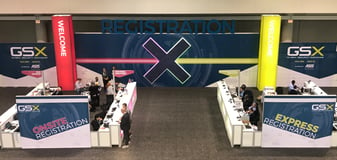 Day two at GSX 2019 started with an early breakfast meeting with the team from Southwest Microwave followed by a few very informative videos at their exhibit. What we thought would be one video about advancements in their INTREPID™ perimeter intrusion detection system, again turned into three very helpful bits of information: saving time and money with IP-based perimeter intrusion detection, top 3 questions, and command center solutions for perimeter alarm notification.
Saving Time and Money with IP-based Perimeter Intrusion Detection
By deploying an IP-based perimeter intrusion detection system, there's a significant reduction in data and power wiring infrastructure. Plus, IP-based systems can easily be serviced across the network, reducing hands-on maintenance and troubleshooting.
Command Center Solutions for Perimeter Alarm Notification
Steve continues the conversations related to handling alarm events in a command center by discussing how fence detection alarms are presented to a security officer within the video management system user interface.
Top 2 Questions Asked About Perimeter Intrusion Detection Systems
Demystifying security technology is important when searching for the optimal solution. Consideration must be given to design options, reliability, and ease of installation and maintenance. In this video, Tom and Steve discuss the top 2 questions they face when discussing perimeter intrusion detection solutions:
What are the considerations and differences between fiber optic and copper cables?
What happens if a cable is cut or damaged?
Next we headed to the EIZO exhibit, known for their all-in-one DuraVision IP monitor and decoder solution, to learn about their new stand-alone decoder hardware platform DX0211-IP IP Decoding Box.
Day 3 is tomorrow. We'll wrap up at the Bosch Security and Safety Systems exhibit with several exciting announcements. Lastly, we'll give you our top take-aways and final impressions from GSX 2019. Stay tuned!
If you missed our Day 1 Part 1 review yesterday, check it out here >>