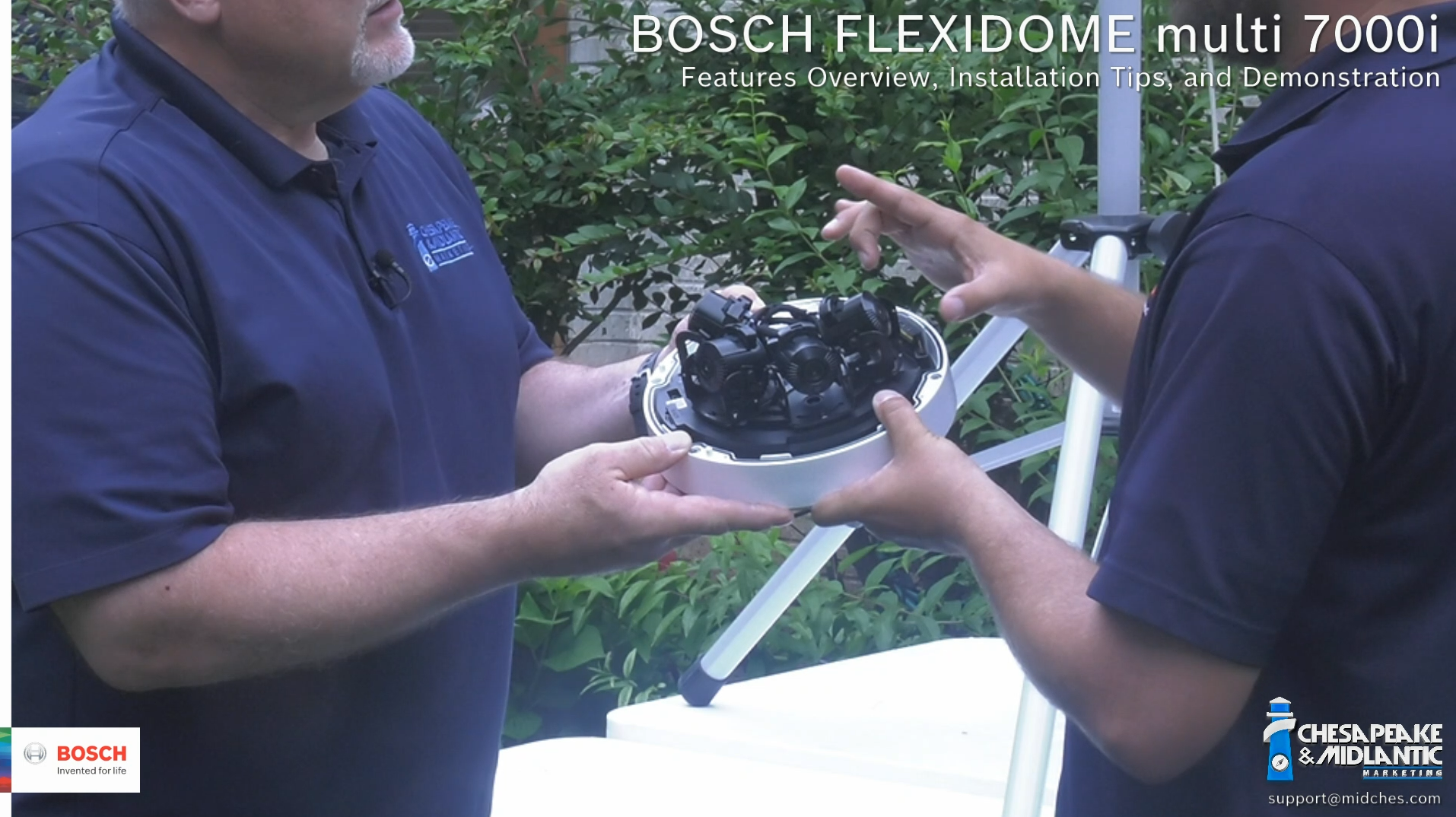 In this video, Steve Pennington, Brad Castillo, Tom Fontana, and Joe Barnhart open up a new Bosch multi-imager camera, explain the key features, discuss installer benefits, and demonstrate the multi-imager in Bosch Video Management System (BVMS) Operator Client.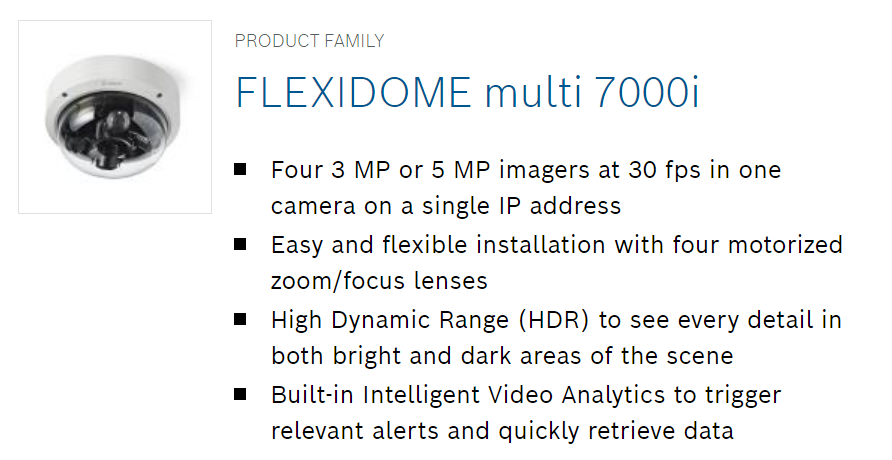 The FLEXIDOME multi 7000i camera is built for high-quality performance, featuring four independent imagers with motorized zoom/focus lenses. It helps to simplify installation and lower costs while maintaining flexibility in coverage. With four scenes simultaneously in a single camera, it is perfect for wide area coverage, traffic intersections, and building corners. When the lenses are tilted at the right angle, the camera can even cover an area up to full 360°. Additionally, the zoom capability allows the camera to obtain detailed coverage for more distant areas.
20-megapixel multi-directional overviews
Four independent 5-megapixel imagers with separate remote zoom and focus lenses capture very high-quality images with a total resolution of 20 megapixels. Each of the four imagers can be set-up flexibly with 3-axis movement along a circular track. This enables surround coverage, capturing detailed images from every angle for comprehensive video coverage with
four separate views from a single IP address.
12-megapixel multi-directional overviews
Four independent 3-megapixel imagers with separate remote zoom and focus lenses capture very high-quality images with a total resolution of 12 megapixels. Each of the four imagers can be set-up flexibly with 3-axis movement along a circular track. This enables surround coverage, capturing detailed images from every angle for comprehensive video coverage with
four separate views from a single IP address.
High Dynamic Range
The camera has High Dynamic Range. This is based on a multiple-exposure process that captures more details in the highlights and in the shadows even in the same scene. The result is that you can easily distinguish objects and features, for example, faces with bright backlight.
The actual dynamic range of the camera is measured using Opto-Electronic Conversion Function (OECF) analysis according to IEC 62676 Part 5. This method is used to provide a standard result which can be used to compare different cameras.
H.265 high-efficiency video encoding
The camera is designed on the most efficient and powerful H.264 and H.265/HEVC encoding platform. The camera is capable of delivering high-quality and high-resolution video with very low network load. With a doubling of encoding efficiency, H.265 has become the new compression standard of choice for IP video surveillance systems.
Two-way audio and built-in microphone
Two-way audio allows the operator to communicate with visitors or intruders via an external audio line input and output. Alternatively, there is an integrated microphone to capture crisp and clear audio. By using the integrated or external microphone, audio detection can be used to generate alarms to alert the security operator quicker and act more proactively. If required by local laws, the microphone can be blocked via a secure license key.
Intelligent Video Analytics
The camera uses the latest generation of Bosch Intelligent Video Analytics (IVA). Specifically designed for the most demanding environments. It is extremely resistant to false triggers caused by challenging environments with snow, wind (moving trees), rain, hail, and water reflections. By using the zoom function of the lens, the camera can provide automatic person detection over distances up to 130 m / 430 ft.
The system reliably detects, tracks, and analyzes objects, and alerts you when predefined alarms are triggered. A smart set of alarm rules makes complex tasks easy and reduces false alarms to a minimum. Intelligent Video Analytics also adds sense and structure to your video by adding metadata. Calibration is quick and easy - just enter the height of the camera. The internal gyro/accelerometer sensors provide the rest of the information to precisely calibrate the video analytics for each imager.
The next step in video analytics is taken with the incorporation of machine learning capabilities. With Camera Trainer you can tailor the built-in Intelligent Video Analytics to detect new user-defined moving or stationary objects and situations, or any subsequent changes.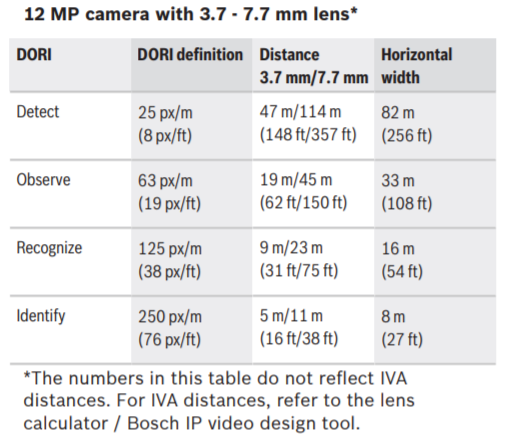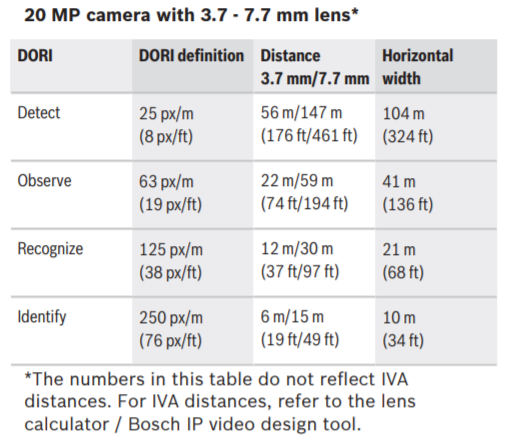 Scene modes
Multiple configurable modes are provided with the best settings for a variety of applications. In one click fully optimized image settings can be selected to suit the conditions. Different scene modes can be selected for different situations such as sodium lighting, fast moving objects, or dark environments.
Resists rain, dust, and tampering with reliable operation across a wide temperature range
Suitable for indoor and outdoor usage. The robust design of the camera is rated to IP66 and
IK10 standards, safeguarding the camera against rain and dust while also offering protection against vandalism and tampering. The camera can operate in a wide ambient temperature range between -50 °C up to +55 °C / -58 °F up to 131 °F.
Easy installation
With the multi-imager camera, it is only necessary to install one camera, pull one cable, configure one IP address, and acquire one video management software (VMS) license (applicable for most common VMS, including BVMS 11.1 or higher), while having the
benefit of using four cameras. The mechanical design follows the Bosch installation
philosophy by using an installation mount plate and easy cable management. Power can be supplied via Power-over-Ethernet. With this configuration, only a single cable connection is
required to view, power, and control the camera. Using PoE makes installation easier and more cost effective, as cameras do not require a local power source.
Modular accessories
A full line of modular accessories is available that allows a consistent design across different cameras and a wide range of installation possibilities. Available options include wall or pipe mount, a surveillance cabinet with power and fiber optic options, and an in-ceiling mounting kit. There is also a conduit adapter available for installations on concrete walls or ceilings.
Data security
Special measures have been put in place to ensure the highest level of security for device access and data transport. The three-level password protection with security recommendations allows users to customize device access. Web browser access can be protected using HTTPS and firmware updates can also be protected with authenticated secure uploads. The cameras have built-in Secure Element (SE) hardware providing main Trusted Platform Module (TPM) functionality to ensure the highest levels of data security and privacy protection. Together with Public Key Infrastructure (PKI) support, superior protection from malicious attacks is guaranteed. The 802.1x network authentication with EAP/TLS, supports TLS 1.2 with updated cipher suites including AES 256 encryption. The advanced certificate handling offers:
• Self-signed unique certificates automatically created when required
• Client and server certificates for authentication
• Client certificates for proof of authenticity
• Certificates with encrypted private keys
Edge recording
Insert a memory card into the card slot to store up to 2 TB of local alarm recording. Pre-alarm recording in RAM reduces recording bandwidth on the network, and extends the effective life of the memory card. It has advanced edge recording providing a reliable storage solution possible due to the combination of these functions:
• Industrial SD card support allows for extreme lifetime
• Health monitoring of industrial SD cards provide early service indications.
Cloud-based services
The camera supports time-based or alarm-based JPEG posting to four different accounts. These accounts can address FTP servers or cloud-based storage facilities (for example, Dropbox). Video clips or JPEG images can also be exported to these accounts. Alarms can be set up to trigger an e-mail or SMS notification so you are always aware of abnormal events.
Bosch Remote Portal
With the secure cloud infrastructure, Bosch Remote Portal, you can manage your connected Bosch devices. From the Bosch Remote Portal you can:
• Complete initial configuration of your connected Bosch devices (online or offline).
• Update firmware for single or multiple devices.
• Manage certificates.
• Monitor the health of your connected Bosch devices.
Project Assistant app
As the camera is equipped with a USB-C port for a wireless USB dongle (sold separately, available mid of 2021), the installer can easily perform the initial configuration wirelessly. Using a mobile device with the Bosch Project Assistant app, you can do initial setup and lens zoom-focus to find the right scene. Simply connect the wireless USB dongle and go to the Bosch Project Assistant app, available for iOS, Windows, or Android.
Datasheets and Technical Details


System Design Assistance
Contact our solution design experts >>