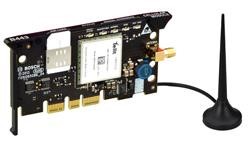 The just released B444 Conettix 4G LTE plug-in cellular communicator enables two-way IP central station communication over the Verizon 4G LTE cellular network.
The B444 plugs into compatible Bosch products, including the B/G Series Control Panels, B465 Universal Dual Path Communicator, and the B450 Plug-in Communicator Interface making installation fast and easy for dealers and integrators while saving end users money and ensuring the best coverage and the most longevity possible.
The benefits of using the B444 include:
Two-way reporting to a central monitoring station over the Verizon 4G LTE cellular network
Simple and reliable path for remote configuration, service and diagnostics
Compatibility with Bosch Remote Connect Cloud Service further simplifies the cellular connection
Reduced costs for the end user by eliminating the need for dedicated phone lines
Easily program personal notifications via text messages or email to end users
Remote Security Control app enables remote command and control of end user systems with a mobile device

Contact our team for design assistance

Learn about Bosch alarm control panels
Installer Details
The B444 requires a Bosch Service Agreement with Bosch Installer Services. If a you do not have an existing account with Installer Services (installerservices.boschsecurity.com), a Bosch associate can assist with the Installer Services sign-up process. Email: installer.services@us.bosch.com or call 800-269-0096, option 6.
For successful operation of the new LTE module, a firmware update is required for the products in the table below.
| | | | |
| --- | --- | --- | --- |
| | B444 Compatible Version | Current Shipping Version | RPS Version |
| B465 | 2.00.014 | 2.00.014 | 6.05 |
| B/G Series Panel | 3.05.011 | 3.03 | 6.05 |
| B450 | 3.05.005 | 3.05.005 | 6.05 |
As previously announced, the B444 communicator replaces both the B440 (3G) and B441 (2G) communicators. Support for installed B440 and B441 will continue until December 31, 2022.
List of successor products:
| | |
| --- | --- |
| Part number | Description |
| B444 | Plug-in cellular module, VZW LTE, hot |
| B444-C | Plug-in cell module, VZW LTE, cold |

Learn about Bosch alarm control panels

Contact our team for design assistance

Contact Bosch Technical Support