AT&T has announced that they will sunset their 3G network in the US on February 22, 2022. If you have Bosch B443 cellular modules that are using the AT&T network, you will need to replace these modules before this deadline because they will stop communicating at this time.
You can replace your B443 with a new B444-A module and continue to use AT&T.
Bosch is pleased to offer $50 off your price of a new B444-A for this purpose.
Learn more about the B444 module that replaces the legacy B443 here >>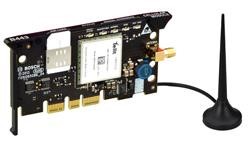 Order your new B444-A now and use promotion code 35189 to receive your discount.
The promotion code is only valid when replacing an existing 3G module. Note that you may need to upgrade the firmware in the control panel, B450 Cellular Interface module or B465 Universal Dual Path Communicator to ensure that it is compatible with B444-A.

Important notes
The promotion code is only valid when replacing an existing 3G module.
The control panel firmware upgrade to v3.12.020 must be completed prior to installing the new B444-A module. Follow the instructions provided with these products to complete your firmware upgrade.
Please be sure that remote firmware updates are allowed for your application, for example, some applications require that a technician is on-site.
Bosch will be waving cellular overage fees from January through March 31, 2022 to allow you to update this firmware over cellular if you prefer.
B444-A requires that you have an Installer Services account in Bosch's new installer portal. If you do not have an account in this portal, contact Bosch's Installer Services team for assistance.
After you have decommissioned your B443(s), email the SIM ID number to Installer.Services@us.bosch.com to discontinue the cellular service and avoid unnecessary charges.
Not sure exactly what to do?
Contact us for system design assistance >>