Because of the deep integration of Bosch IP cameras with Milestone, you can receive specific Video Analytics events like line-crossing, object-in-field or any of the other 16 alarm tasks that are exposed in XProtect.
Join Us
Thursday, November 12
11:00 - 11:45 am ET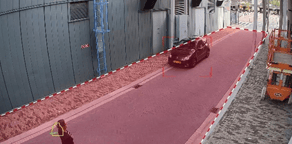 Video Analytics is an important enabler of any strategy to substantially improve levels of security, and offer clear business advantages beyond security. It acts as the brains of a security system, using metadata to add sense and structure to captured video footage.
Capabilities include:
Receiving of alarms and creating events from Bosch cameras with Video Analytics

Traffic monitoring: Wrong-way detection, traffic counts, and detecting parked cars

Advanced intrusion detection: Alarms can be set to issue loitering alarms, detect a person or object entering a predefined field, and more

Enforcing health and safety regulations: Video Analytics can be used to ensure that no one enters or leaves a retail shop using the emergency exit

Optimize retail service level: Camera's metadata can trigger an alarm in case the number of people in a queue exceeds the pre-defined threshold
For more webinar details contact:
Michael Guarino
339-203-3310