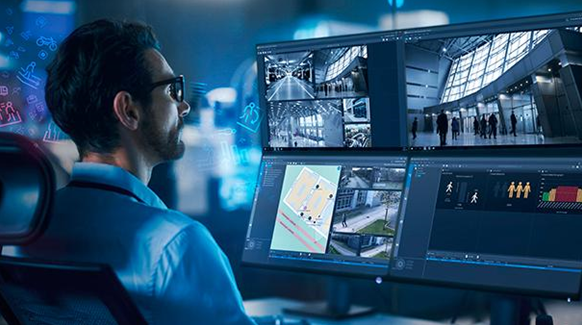 Operators of video management systems (VMS) require a way to quickly view video from specific cameras. If an operator has been in the business for a long time, she is likely used to memorizing camera names and locations and can easily call up a camera based on prior knowledge. Other operators may benefit from using maps to provide location information for the proper camera(s) to view.
However, with the implementation of more and more cameras, even the best operators may benefit from the predictive nature of a target being tracked on a map of the building or facility. By knowing which cameras are nearby, the system can easily populate video cameos in advance of the target making his next move.
Bosch Video Management System (BVMS) offers map-based tracking assistant to help with exactly this situation. BVMS is a data-driven video management system that supports predictive solutions by establishing a decision center delivering actionable insights to customers. The latest version offers a map-based tracking assistant and improved geographical awareness with online maps.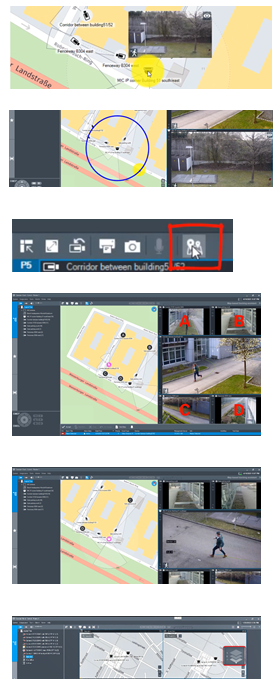 Once the map-based tracking assistant is configured, it can be used within Operator Client by opening the map viewport. The map offers several useful features:
• Placing the mouse over a camera icon on the map shows the camera preview
• Clicking in the camera's reachable view circle moves a PTZ camera to the desired direction

Operators can toggle map-based tracking on or off by clicking the Start map-based tracking assistant icon. Once started, the main camera will display in the center tile, while an intelligent algorithm automatically selects four additional camera views based on their proximity to the main camera. As the person or object moves, the operator can click on the camera field of view where the person or object appears next. The newly selected camera becomes the main camera and different cameras are assigned in the other tiles by the intelligent algorithm.

In addition, PTZ cameras will move toward the main camera view cone. The PTZ camera will automatically track the person or object, and camera movement can be seen on the map.

With the release of BVMS 11.1.1, operators can select between multiple floors with the icon in the lower right of the map overlay window.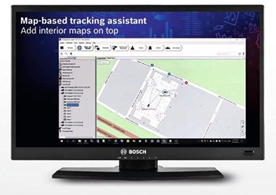 Watch this recorded webinar
A recently recorded Technology Talk session demonstrates the capabilities of map-based tracking and the use of online maps in BVMS. It also provides a preview of new privacy features to come in the next release.
Watch here >>
Need a demonstration or system design? Contact us here >>