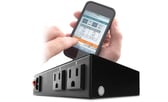 From SDM Magazine:
With the advent of power over Ethernet (PoE) and other technologies that deliver data communication and power over a single cable, transmission and power have become woven together so tightly that it can be difficult to tell where one stops and the other starts. In some cases, that doesn't happen at all. As a result, the way we think about these two functions in video systems has changed quite a bit in recent years.
New Frontiers in Power
That's not to say the power segment of the security industry isn't seeing its own share of innovation. A number of newer technologies are closely tied to data transmission, the Internet of Things, improving the reliability of power supplies and, by extension, the uptime of video systems.
Analog Soldiers On
"The analog market is still strong; there will always be a demand for analog CCTV over fiber," says Frank "Skip" Haight, vice president of marketing for Communication Networks (ComNet), based in Danbury, Conn. "But from the transmission perspective, most of the R&D that is occurring from camera companies nowadays is directed at the IP offering. Analog might have advanced as far as it's going to."
The rise of IP-based video systems has made PoE a main method for powering cameras, DVRs, NVRs and other devices. This shouldn't be surprising, given the potential savings in equipment, labor and installation costs that result from data and power traveling along a single cable.
Easing Migration Pain
"One of the challenges integrators are facing with so many companies choosing to make the wholesale migration from analog to IP is to use existing infrastructure that is in place where possible — think of the miles of installed coax and UTP cables — and trying to do it in a cost-effective way," says ComNet's Frank "Skip" Haight. "It makes sense: Why not use the existing copper media to provide operating power for the camera versus having to use a local AC power source? PoE IP cameras are becoming the norm today."