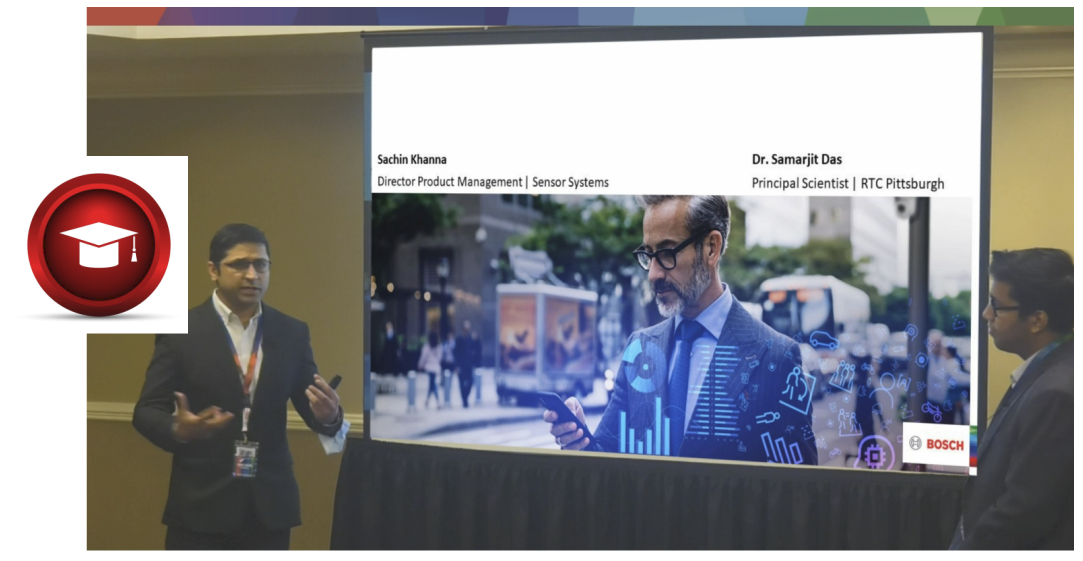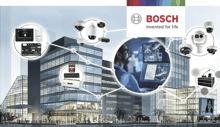 Here is your chance to watch 11 technology presentations delivered at the Bosch Technology Forum 2021. Check back soon for those presentations yet to be published.
Watch here >>
Camera as a Sensor

- leveraging camera technology beyond basic security applications - ITS/traffic, smart cities, and more.

Presenter: Joel White, Bosch Security and Safety Systems Product and Strategy Owner, Video-as-a-Sensor Application Solutions

---
INTEOX / Azena

- Azena is an open platform for security cameras, enabling them to run onboard 3rd party applications - LPR, safety enforcement, retail analysis, and more. Andrew Seymour is the Business Development Manager at Azena, a 3rd party app store for security cameras like Bosch's inteox series.

Presenter:

Andrew Seymour, Business Development Manager at Azena
---
Audio Analytics

- detecting and reacting to sound anomalies using cameras. Co-P

resenter:

Sachin Khanna, Director of Product Management at Bosch Security and Safety Systems Co-Presenter

Dr. Samarjit Das, Principal AI Scientist, Senior Research Manager at RTC Pittsburgh, Bosch USA. Dr. Das is

responsible for Bosch's research collaborations with the School of Computer Science at Carnegie Mellon University, Caltech, NASA-JPL and New York University.
---
Managing Camera-Generated Metadata: Aggregation and Analysis

- managing camera-generated metadata for security, safety, and operations optimization.

Presenter:

Joel White, Bosch Security and Safety Systems Product and Strategy Owner, Video-as-a-Sensor Application Solutions

---
Common Product Platform (CPP) Camera Roadmap

- present and future Bosch camera capabilities in CPP13, CPP14 and the INTEOX platform.

Presenter:

Sachin Khanna, Director of Product Management at Bosch Security and Safety Systems
---
Bosch Video Management System (BVMS) 11.0+

- where we've been and where we're going. Learn what's new in BVMS 11.0 today and what's coming in BVMS 11.1 and 12.0.

Presenter:

Brad Castillo, Chesapeake & Midlantic Marketing Technical Lead






---

Secure by Design: Bosch Camera Cyber Security

- as more video security cameras get connected to the Internet of Things (IoT), they are transitioning into intelligent sensors that collect significantly more data than video security images alone, making cyber and data security even more essential. That is why Bosch embraces an end-to-end approach to maximize data security and ensure the proper measures are in place for physical safety and cybersecurity. Presenter:

David Brent, Senior Cyber/ Data Security Technical Instructor at Bosch Security and Safety Systems
---
Cyber and Data Security for Camera Systems: A Deeper Dive

- digging into the details of how hacking into a camera system is possible, regardless of internet connectivity. Presenter:

David Brent, Senior Cyber/ Data Security Technical Instructor at Bosch Security and Safety Systems

---
Intrusion Detection Solutions: Advanced Integration and Encryption

– intrusion system technology has evolved to provide solutions beyond simply catching the burglar. Learn about new applications that help secure your facilities with advanced integration and encryption technologies. Presenter:

Tom Mechler, Product Marketing Manager at Bosch Security Systems
---
Audio and Voice Communications Integration for Safety and Security

– integrating public address with video and intrusion detection systems for automated and unified operations. Presenter:

Sean Shallenberger, Director of National Sales- Installed Audio at Bosch Security Systems
---
Best Kept Secrets: Installation Tools, Tech Support App, and Cloud Services

– some of Bosch's best kept secrets: remote portal, video security app/client, Bosch cloud services, project assistant, intelligent insights, configuration manager, alarm management, cloud recording, Tech Support App, and more.

Presenter, Edward Colton, Applications Design Specialist at Bosch Security Systems
Contact us to discuss these technology solutions >>