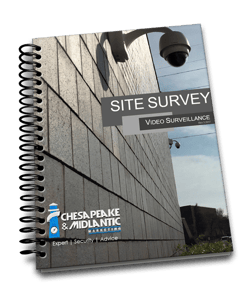 An in-depth video surveillance site survey is necessary in order to properly evaluate the solutions required to capture evidence of theft, prevent injury, and minimize risk.
We created this updated, ten page document which provides you with over 60 critical questions to ask and considerations to make before deciding on a video surveillance system purchase.
This easy-to-use site survey tool will get you started down the path to an effective video surveillance solution. The site survey will provide an opportunity for all stakeholders to set their expectations and will narrow down the best solution for your application.
This is a perfect resource for security professionals of all types: system owners, security managers, system design professionals, and engineers alike. Hospitals, corporate campuses, critical infrastructure, industrial complexes, K-12 districts, higher education campuses, government, and commercial establishments all have a variety of unique applications. Be sure not to miss any details with the help of this guide and our local resources and support.
Click to download to the Site Survey: Video Surveillance