Want to mount a Bosch Flexidome (VR style) to a roof or parapet for easy servicing and a better vantage point?
Check out this solution: get a Bosch roof/parapet mount and attach it to the Flexidome pipe mount using a specific adapter. (You can get it here.)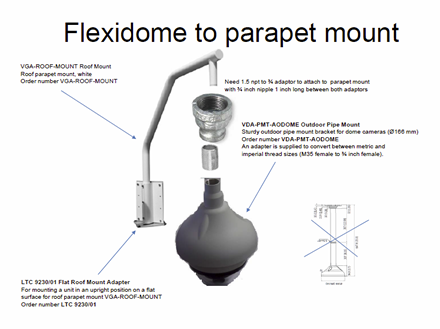 Want to do the same with a Bosch 12mp panoramic? Simply connect a BDH-7500 outdoor dome with a Bosch 12mp 7000 series panoramic camera inside of it to the Bosch roof/parapet mount. The BDH-7500 doesn't require the adapter, so it's simply roof/parapet mount directly to the BDH-7500. Simple.
Detailed instructions & part numbers here for connecting a roof/parapemt mount to the Flexidome pipe mount
Contact us with questions