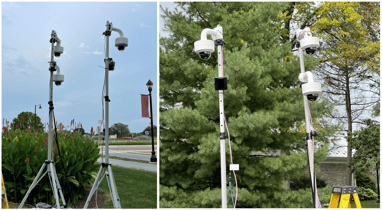 When it's time for you to refresh security technology, demand a demonstration of the proposed cameras and other devices. Without a proof of concept, how do you know exactly what your results will be? Will all stakeholder expectations be met? Or will you be left with a less-than-spectacular system rather than a successfully deployed solution?
This week, Tom Fontana and Brad Castillo executed exactly that. One of our partners wanted security cameras that can simultaneously capture license plates and general overview of vehicles passing by.
So, Tom and Brad did what our team always does: packed up their cars with cameras, network switches, telescoping demonstration mounts, infrared illuminators, and computers and hit hit the road for a proof of concept demonstration. Check out the images below, click them to enlarge >>
Demonstration Details
The system owner wanted to determine the number of cameras required to capture all points of entrance/exit of a traffic circle for both general overview as well as license plate capture. All cameras are required to be mounted outside of the traffic circle due t infrastructure limitations. This placement requirement creates license plate capture challenges due to the extreme viewing angles of the cameras.
The demonstration allowed Tom and Brad to determine the proper mix of lens and IR options to meet and exceed stakeholder expectations. Four cameras will perform image capture at each exit/entrance of the traffic circle at 70-100' range with 25' width field of view using a 30mm lens setting. A fifth camera will provide overview surveillance of the entire traffic circle with extreme lowlight sensitivity which will enable vehicle color determination.
Both daytime and nighttime license plate capture was achieved at >65 pixels per square foot.
The proof of concept included an 850nm PoE-connected infrared (IR) illuminator with remote sensitivity adjustment for easy setup and configuration changes. The IR illuminator will turn on and off based on ambient lighting conditions.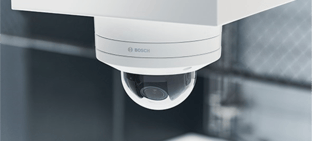 Cameras Demonstrated
Infrared (IR) Illuminator Demonstrated
Learn more about what we can do for you here>>