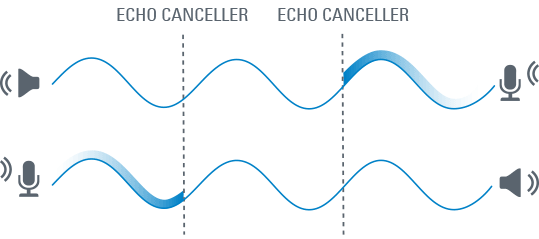 OpenDuplex® technology includes a powerful echo cancellation algorithm to improve speech quality, even in 16 kHz eHD Voice audio quality.
INTERCOM STATIONS SUPPORT THREE AUDIO MODES:
OpenDuplex®

operation: maintains open communication lines in both directions to allow for natural, fully hands-free conversations.
Switched Duplex

operation: detects and switches the communication direction automatically.
Simplex operation

(PTT = Push to Talk): allows for manual control of the communication direction; a button must be pressed before speaking.
Commend Intercom's OpenDuplex® speech control allows simultaneous talking and listening and provides top quality speech intelligibility.
The conversation is permanently switched through in both directions, therefore both conversation partners can speak simultaneously.
The OpenDuplex® mode allows an improvement in speech quality at high ambient noise levels.
OpenDuplex® is carried out by Echo Cancelling in the station.
Should not be confused with Full-Duplex which is similar but without echo cancelling and therefore only works correctly when one side is using a gooseneck microphone or headset.

Contact our team in MD, VA, and DC for intercom system design assistance >>