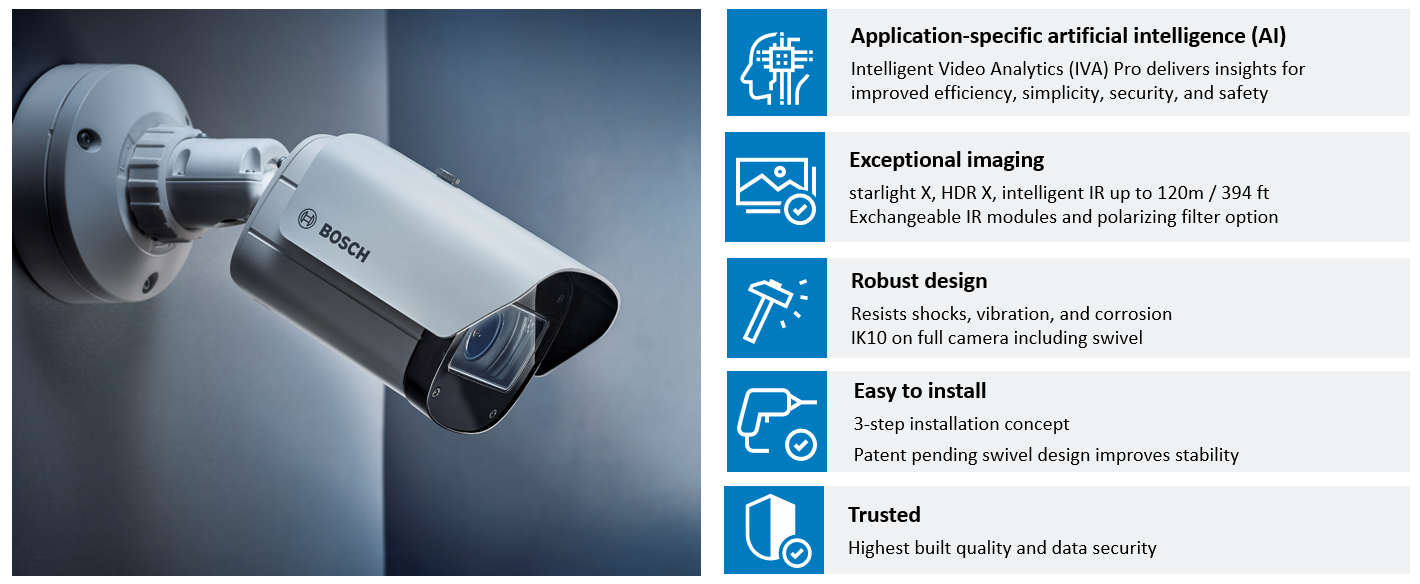 We are happy to share that the highly anticipated launch of the DINION 7100i IR cameras has begun. Bosch's newest camera family delivers reliable detection and precise classification, especially beneficial for perimeter security and traffic monitoring applications. Be sure to watch the 20 engineering and demonstration videos below >>

DINION 7100i IR bullet cameras are designed for high security applications or traffic monitoring that demand long-range detection and classification. Their exceptional low-light image performance combined with application-specific artificial intelligence ensures the highest reliability in extreme environments.
starlight X for low-light imaging
HDR X for challenging lighting situations
Intelligent IR for dynamic IR adjustments from close to long distance scene changes
Electronic image stabilization (EIS) automatically removes motion caused by wind or vibration
IVA Pro Perimeter included
IVA Pro Traffic license available
IVA Pro Perimeter comes pre-installed. Highly sensitive to motion, nothing escapes detection, including professional intruders who crawl, roll or use camouflage. It also delivers enhanced metadata such as GPS location and speed, while only relevant events trigger alerts to minimize false alarms.
For enhanced road and traffic intelligence, a separate IVA Pro Traffic license can be added to the cameras.
This delivers reliable detection, classification and rich contextual data in busy scenes with accuracy levels
beyond 95% in vehicle counting for the most precise, actionable insights.
These robust cameras are designed to deliver outstanding coverage in harsh outdoor environments, including wind, vibration, rain, and snow. Secure, cyber-resilient solutions, that are built for lasting protection and performance.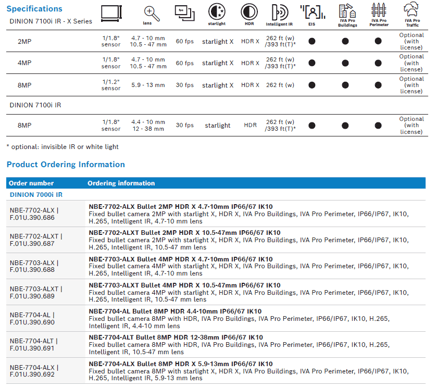 Family Introduction: Features and Benefits Videos
Engineering Videos
Vibration & Shock Testing
Halt Testing (temperature)
IP67 Water Ingress Testing
Demonstration Videos
EIS (Electronic Image Stabilization)
Rain with IR Illumination
IVA Pro Analytics Wide Angle Detection
Long Range IR Illumination
Shootout Videos
Image Performance Shootout
Analytics Crawling Detection Shootout
Wide Angle Detection Shootout
Integration Videos
Genetec Integration: Restricted Security Area Demonstration
Milestone Integration: Forensic Search Demonstration
Installation Videos
Installation Time Savings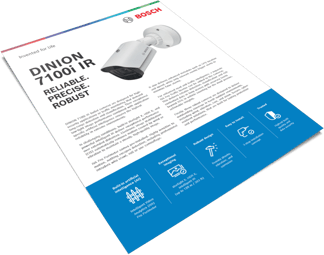 Demonstration and Pricing Request >>