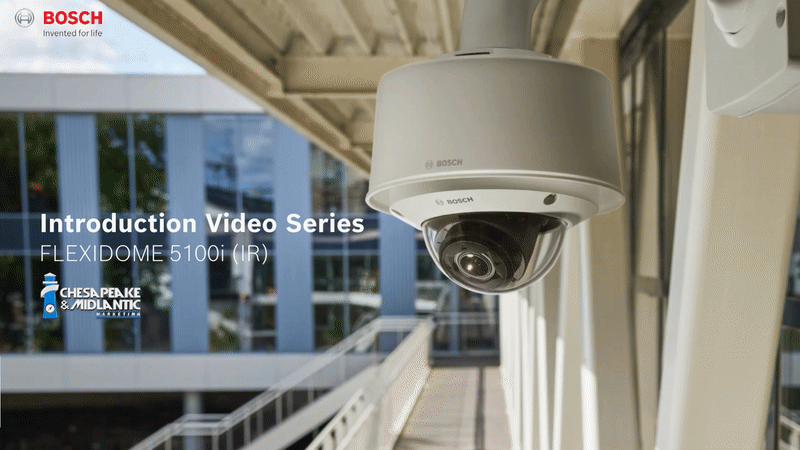 Bosch released the much anticipated FLEXIDOME indoor/outdoor 5100i (IR) series of cameras, ideal for the most common safety and security applications that security professionals are responsible for every day.
Our team took a few days to evaluate just about every aspect of this camera series and produce five videos, allowing our partners to get an in-depth look at the camera's capabilities when it comes to IK10 ruggedness, various mounting accessories, gyro-based electronic image stabilization, up to 4K imaging performance, and intelligent video analytics IVA Pro. Watch the videos below as our team unveils the latest major camera launch from Bosch >>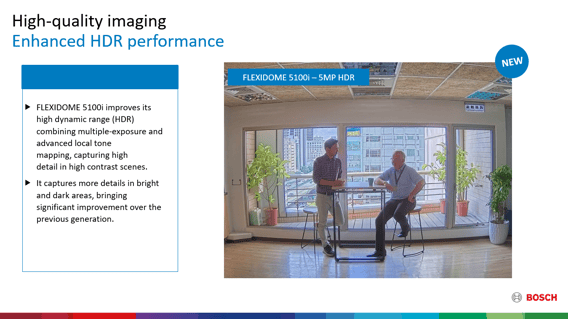 Imaging Performance
The camera is a versatile and professional surveillance camera for indoor monitoring. It delivers exceptional image quality, starlight performance and High Dynamic Range at resolution 4K ultra HD for highly detailed image for demanding security and surveillance network requirements.
The cameras offer sensors and HDR technology at resolutions up to 4K ultra HD that provides high performance in extreme low light environments. Multiple configurable modes are provided with the best settings for a variety of applications. In one click fully optimized image settings can be selected to suit the conditions. Different scene modes can be selected for different situations such as sodium lighting, fast moving objects, or dark environments.
The AVF (Automatic Varifocal) feature makes it easy for installers to adjust zoom position without opening
the camera. The automatic motorized zoom/focus adjustment with 1:1 pixel mapping ensures the camera is always accurately focused.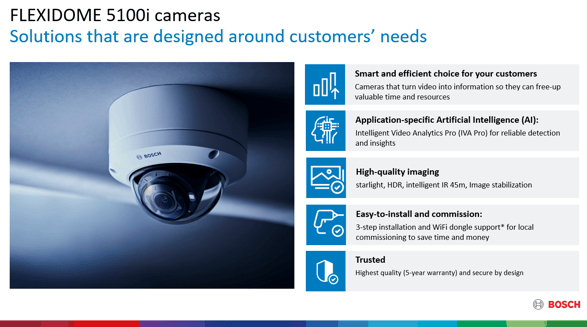 ---
Features and Benefits
Mid-range Pricing
5-year Warranty
Two-way audio
Edge recording
Rugged IP54, IK10
High Dynamic Range
Intelligent Infrared (IR) Illumination (available models)
starlight
Analog Video Output (available models)
Gyro-based Electronic Image Stabilization
Intelligent Video Analytics Pro (IVA Pro)
NDAA & TAA Models Available (-GOV)
265 high-efficiency video encoding
Supports Auto-MDIX
Data security
Flexibility in streaming capabilities
ONVIF conformance
Cloud-based services
Bosch Remote Portal
Project Assistant app
---
Gyro-based Electronic Image Stabilization
---
Intelligent Video Analytics (IVA) Pro
Built-in Intelligent Video Analytics Pro (IVA Pro) enriches full situational awareness and triggers relevant alerts. The camera comes with IVA Pro Buildings pre-installed and brings highly reliable deep-learning based detection and tracking of persons and vehicles to scenes ranging from sterile zones to crowded and congested. Being extremely resistant to false triggers caused by challenging environments with rain, wind (moving trees), snow, hail, and water reflections as well as shadows and bugs, it reliable detects, tracks, and classifies objects.
A smart set of alarm and counter rules allows to alert you when predefined alarms are triggered, and to forensically search with high efficiently though recordings. Configuration effort is minimized and made easy by removing the need for calibration.
Optionally the camera can be licensed with IVA Pro Perimeter or IVA Pro Traffic to optimize the camera
analytics for specific enterprise use-cases.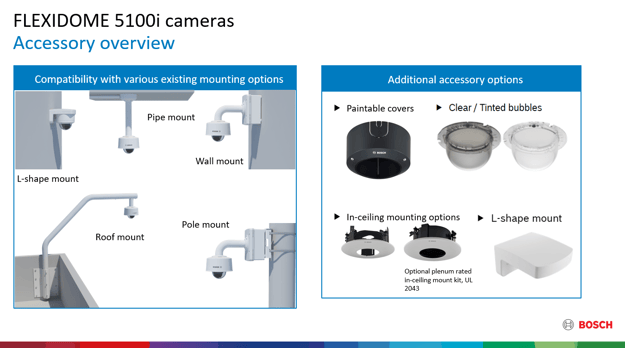 ---
Mounting Accessories
The modular structure design uses a click and rotate mechanism on mounting plate or base that requires no hardware to secure the camera to housing for fast installation, including compatibility with various mounting options.
The mechanical design follows the Bosch installation philosophy by using an installation SMB and easy cable management. Power can be supplied via Power-over-Ethernet. With this configuration, only a single cable connection is required to view, power, and control the camera. For trouble-free network cabling, the camera supports Auto-MDIX which allows the use of straight or crossover cables.
A full line of modular accessories is available, which allows a consistent design across different cameras
and a wide range of installation possibilities. Available options include wall or pipe mount, a surveillance
cabinet with power, and an in-ceiling mounting kit.
---
Unboxing
---
3-step Installation (Outdoor Variant)
---
Data Sheets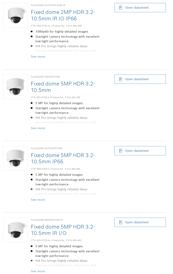 ---
Demonstrations, Quotes, and Questions