It should come as no surprise that manufacturers of thermal imaging devices are working to assist employers with getting back to work safely. However, getting clear and accurate guidance is coming from sources outside of the thermal imaging manufacturers community.
The Security Industry Association (SIA) and the U.S. Food and Drug Administration (FDA) have provided guidance and resources for specifiers, installers, and users of non-contact infrared thermometer (NCIT) systems.
FDA Guidance on Thermal Imaging Systems (Infrared Thermographic Systems / Thermal Imaging Cameras)
Guidance from the FDA in May offers insight into how thermal imaging can be used in determining skin temperature. The Administration outlines benefits, limits, proper use, environmental setup, blackbody use, as well as common FAQs.
Read the FDA's NCIT Fact Sheet >>
Security Industry Association Resources
Susan Kohn Ross of Mitchell Silberberg & Knupp LLP, chair of SIA's Global Commerce Working Group, explores the current focus on temperature taking in the return-to-work environment and key challenges and considerations for adapting thermography machines to take advantage of this unexpected business opportunity and this new use as medical devices. Read more >>
In this on-demand SIA webinar, researchers from IPVM offer a fast-paced educational session on thermal temperature screening solutions, sometimes called fever detection cameras. In this 30-minute session, you'll learn the fundamentals of how these systems work,the factors that impact accuracy and actionable tips and best practices for deploying such solutions.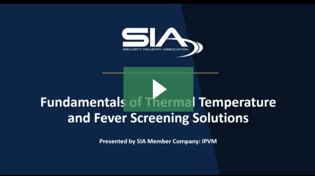 SIA's new Resources for COVID-19 and Business Continuity page contains helpful information and guidance for people and businesses related to COVID-19, including new research and programs, health and prevention resources, regulatory and policy resources, business operations and continuity guidance and preparedness solutions and recommendations from SIA member companies.
Resources include:
RESEARCH RESULTS: IMPACT OF COVID-19 ON THE (security and safety) INDUSTRY

GUIDE TO STATE AND LOCAL COVID-19 PROGRAMS

COVID-19 STIMULUS PACKAGE SUMMARY REPORTS

SIA-ESA-TMA LETTER TO PUBLIC SAFETY LEADERS ON IMPORTANCE OF SECURITY, FIRE, LIFE SAFETY AND MONITORING SERVICES

SIA-ASIS PARTNERSHIP ON COVID-19 RESPONSE