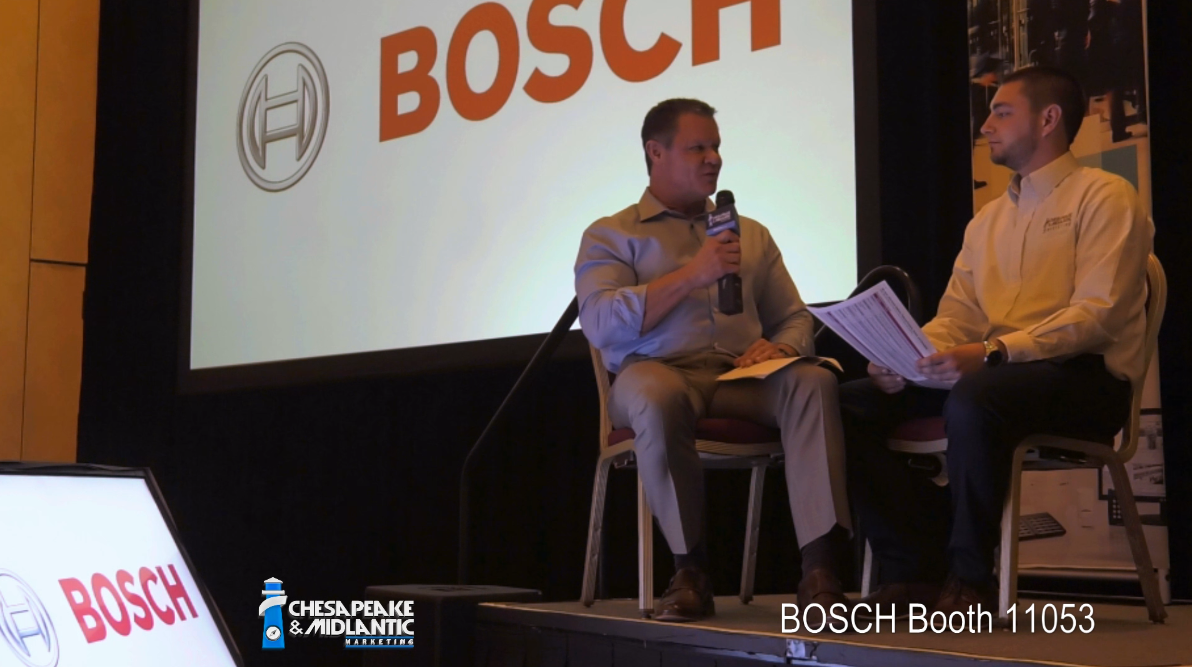 This afternoon we had an opportunity to get a sneak preview of what to expect at Bosch's security and safety exhibit booth, #11053. Nick and Joe give us the TOP 8 REASONS NOT TO MISS THE BOSCH BOOTH. Watch them explain here...
Sony Tech Suite - Venetian Room 35205
Earlier today at ISC West we visited the Sony Tech Suite premier. Take a look as Joe Barnhart introduces us to the suite. You can visit it during the show at the Venetian, Room 35205. Watch here:
Be sure to check out the recently announced ISC West education sessions listed below.
Security professionals have been using IP cameras and other security devices successfully for years, and legacy solutions have been working for a long time. However, new technologies that use analytics and cyber security safeguards are taking the place of old solutions. Therefore, if you're attending ISC West, be sure to meet up with our team to see the most modern security solutions available to protect businesses, organizations, and government.
---
SHOW CONTACTS
Contact our team before or during the show to schedule manufacturer visits or project meetings
---
SPECIAL EVENTS
Free Breakfast Session: Innovating security, creating new value
Get the latest information on important technology trends, including rising connectivity and the impact of the Internet of Things on security, privacy, and data. Learn what Bosch is doing to shape the future, while delivering leading solutions that users can trust.
Wednesday, April 10
9 – 10 am PT
Venetian Ballroom G

Free Breakfast Session: Integrated security solutions designed around you
Learn how integrated solutions work together to improve security. Whether you are leading with video or intrusion detection, Bosch integrated solutions deliver detection you can rely on with more efficient monitoring and control.
Thursday, April 11
9 – 10 am PT
Venetian Ballroom G

The Convergence of Cyber and Physical Security – A Shared Responsibility
Panel discussion with David Brent, Network Video and Cyber Training Engineer, Bosch
In this session, attendees will hear about the shared responsibility of the manufacturer, integrator, and end user, and the protections that are being implemented to harden physical security systems.
Tuesday, April 9
4:00 - 5:00 pm
Sands 309
Weaponized IP Cameras: Vulnerability Scanning and Pen Testing
Speaker: David Brent, Network Video and Cyber Training Engineer, Bosch
This session will cover the fundamental security considerations that an organization needs to evaluate before placing any IP camera on its network.
Thursday, April 11
11:00 am - 12:00 pm
Sands 201
---
EXHIBIT BOOTH INFORMATION

Booth Listings Invite for Calendar

Booth 11053
Visit the Bosch booth #11053 to see our integrated security solutions! Intrusion and fire detection, video systems and analytics, access control, and communications technology work together to deliver:
Increased security
Efficient monitoring and control
Automated audio announcements
Valuable data that extends beyond security to deliver clear business advantages
Grab a snack in the Bosch Marketplace and experience solutions to reduce theft, improve parking management, enhance warehouse and dock security, detect outdoor risks, and more. Our solutions solve challenges in retail, critical infrastructure, transportation, smart cities, and many other markets.
Discover the benefits and get details on our newest products and services:
Intelligent "i" Series cameras with built-in video analytics as standard
FLEXIDOME IP starlight 8000i fixed dome cameras that reduce installation and set-up time by up to 75%
Robust MIC IP 7100i Ultra HD 4K cameras designed for extreme applications
New DIVAR IP all-in-one solutions that combine recording and video management
Video-based fire detection with the AVIOTEC IP starlight 8000
B Series and G Series control panels that highlight integration with intrusion, fire, access control, IP video and audio communication for complete security solutions
Bosch public address and loudspeakers as well as Telex radio dispatch systems
---

Booth 26809

Booth 15109

Booth 22131

Booth 5065

Booth 26131

Booth 12115
---
FREE EXPO PASS
---
SHOW CONTACTS
Contact our team before or during the show to schedule manufacturer visits or project meetings