Crystal clear video is standard. Ease of installation saves time and money. Reliable behavior detection, intrusion detection, and people counting with deep learning Intelligent Video Analytics Pro Buildings Pack is the value-add bonus.
Up to 5 MP high image quality

for 24/7 performance with starlight, HDR, and gyro-based Electronic Image Stabilization (EIS) (intelligent infrared (IR) illumination for IR version)




Time-saving installation

indoors or out in three convenient steps

Easy-to-use video analytics requiring no calibration for person or vehicle detection
Available IR models for clear images in all light levels
Value priced to meet your day-to-day security project requirements
The FLEXIDOME 5100i series of cameras are versatile and professional surveillance cameras for indoor and outdoor monitoring. They deliver exceptional image quality, starlight performance, and High Dynamic Range at resolution up 5 MP for highly detailed images for demanding security and surveillance applications.

Built-in Intelligent Video Analytics Pro (IVA Pro) enriches full situational awareness, triggers relevant alerts in real time, and simplifies post-incident investigation.



The cameras offer a 1/2.7'' or 1/2.8'' sensor and HDR technology at HD 1080p or 5 MP resolution that provides high performance in extreme low light environments with available built-in active infrared illuminator (IR) on specific models.

The modular structure design uses a click and rotate mechanism on a mounting plate or base that requires no hardware to secure the camera to housing for fast installation, including compatibility with various mounting options.
Check out the variants:
---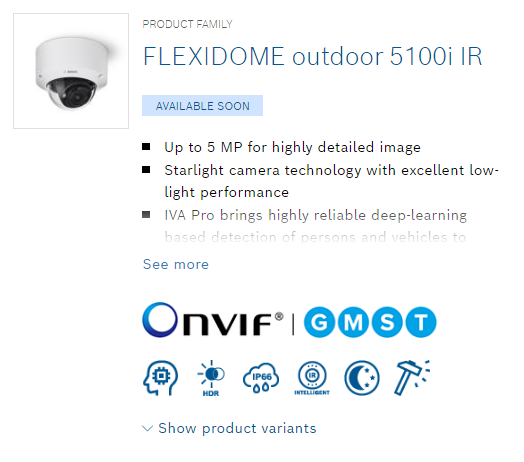 ---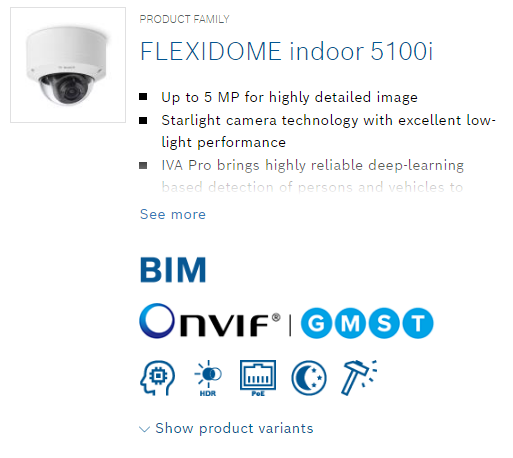 ---
More high-performance imaging solutions and analytics from Bosch Security and Safety Systems >>
Contact us for a camera demonstration or system parts list >>