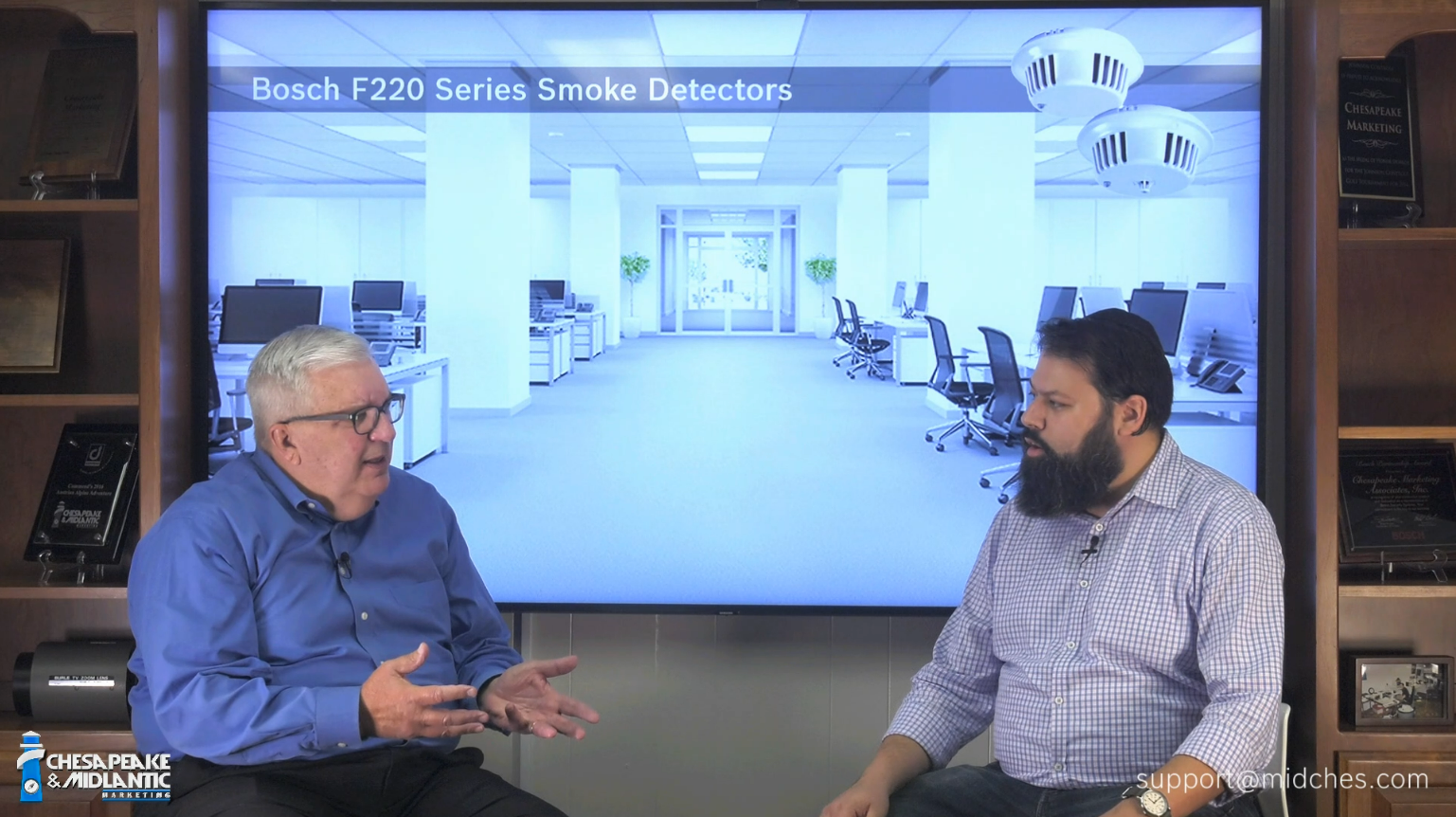 In this video, Ari Erenthal and Rick Bennett discuss the Bosch F220 Series of smoke detectors and UL Listed 3rd party alarm panel compatible bases.
The F220 family of smoke detectors from Bosch are UL listed, open-area photoelectric detectors, compatible with 12VDC and 24VDC systems. They automatically compensate for dust buildup, perform regular self-diagnostics, and will automatically signal if the detection chamber is out of calibration range. Cleaning is easy, with a valve for compressed air cans.
There are three F220 heads:
The F220-P is a standard photoelectric smoke detector head.
The F220-PTH is a combo photoelectric smoke detector head with a heat sensor that will trigger an alarm if the ambient temperature rises over 135 degrees Fahrenheit.
The F220-PTHC is a multi tech smoke detector head. It has a heat detector that will trigger at 135 degrees as well as a CO sensor that looks for carbon monoxide created as a byproduct of combustion. Without the presence of carbon monoxide, the smoke detector is half as sensitive as a standard commercial smoke detector. When the head detects carbon monoxide sensor detects CO, it raises the sensitivity of the photoelectric sensor back up. This significantly cuts down on false alarms caused by dust, steam, and insects. The F220-PTHC cannot be used as a replacement for carbon monoxide detectors where they are required by code.
The F220 Smoke Detector family includes a few different bases:
Two-wire base for 12VDC or 24VDC systems. Bosch recommends the two-wire base be used with Bosch control panels only.
Four-wire base for standard 12VDC or 24VDC systems and will work with all UL listed control panels. Be sure to check the control panel's manual for the right EOL to use.
Four-wire bases with built in sounders, with form C relays, and with EOL power supervision relays.
Four wire addressable bases, for single and multiple heads.